Do you know what today is?  Today is exactly two weeks until Christmas Day!  Are you ready!?? If you are like many Americans the answer to that question… is "no." According to survey data from PriceGrabber® 's fourth winter holiday shopping survey, 41 percent of consumers have not yet completed their holiday shopping. I am in that 41% but I am finishing up my shopping with the help of Independent La Bella Baskets Consultant LaQuisha Bailey.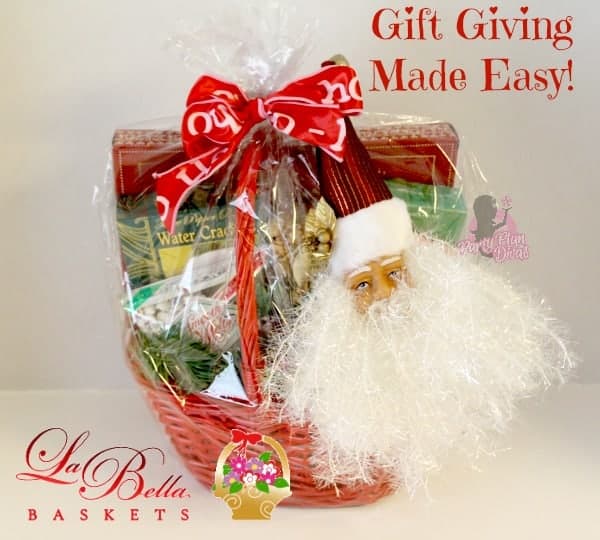 Since 2009 La Bella Baskets has been sending baskets of smiles nationwide for every occasion.  From Christmas gifts to Baby Showers, La Bella Basket has the perfect product to fit your needs. Each La Bella Gift Basket is full of the finest quality products, packaged together beautifully.
I received the Holiday Cheer Basket to review for the Diva Holiday Gift Guide.  Not only was it beautiful, but everything in it was absolutely delicious.  The Holiday Cheer Basket included:
Gourmet Coffee
1.9 oz. Asst Chocolates
Smooth and Melty Holiday Petite Mints 4 oz.
4.4 oz Angelina's Shortbread Butter Cookies
Holiday Caramel Corn 2 oz.
Stone Wheat Crackers
Festive Holiday Santa Decoration/Plant Pick
Red Holiday Wicker Tray
My favorite part about La Bella Baskets is the presentation.  Everyone knows I am a stickler for the "little things" being so important. My Holiday Cheer basket was put together beautifully, wrapped perfectly, and the Santa was so pretty – it immediately found a forever home on my Christmas Tree. La Bella Baskets would be perfect for long distance family and friends, corporate gift giving, or even surprising a friend next door with a huge basket of love.
Check out LaQuisha's website for everything La Bella Baskets has to offer – including amazing gifts and an equally amazing business opportunity – and order before December 16th to guarantee Christmas Delivery to your loved ones!! Be sure to also follow her on Facebook, Twitter, and Pinterest for amazing basket ideas and specials all year long.