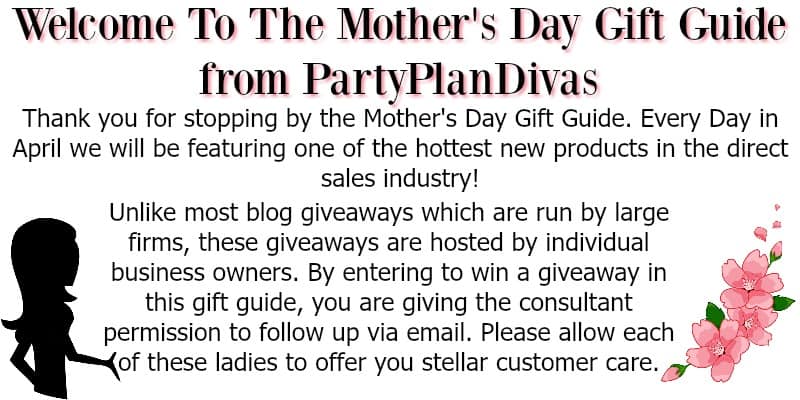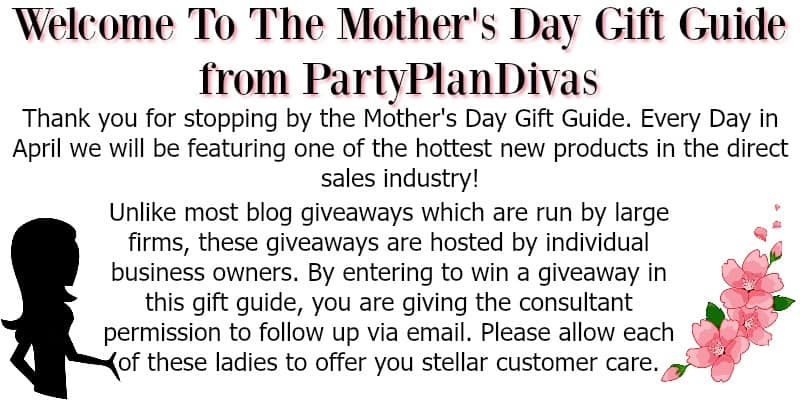 When my friend Lorri Moffatt introduced me to Chalk Couture – a new direct sales company that lets you quickly create gorgeous home decor items at a fraction of the cost they can be purchased – I was seriously intrigued. While I am not really a "crafty" person, I absolutely love the instant gratification of taking something plain and making into something absolutely stunning. I watched her on Live Videos, stalked her Instagram, and simply fell in love with this innovative, one-of-a-kind direct sales company.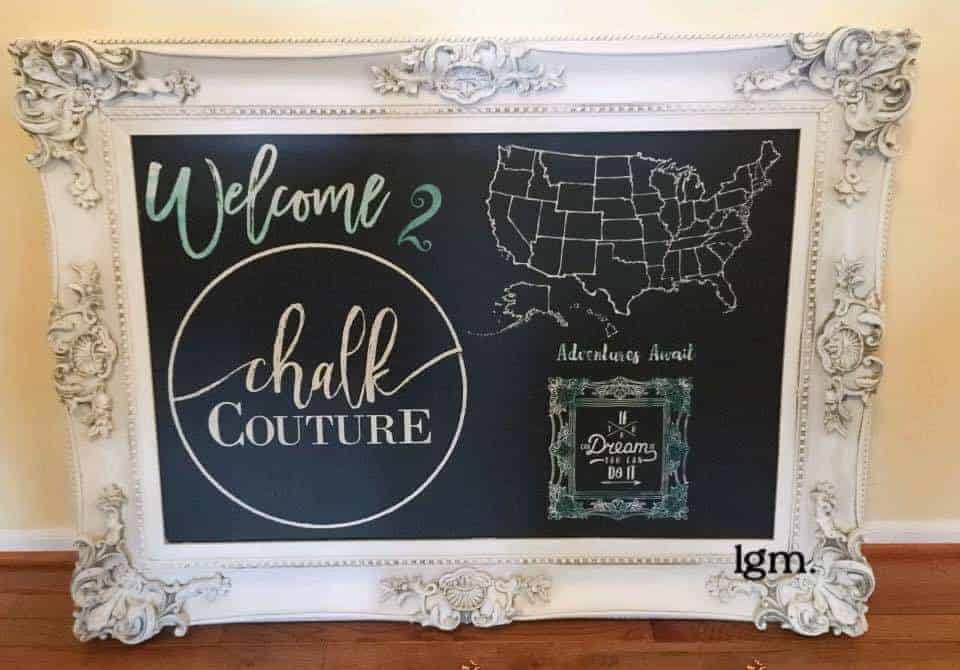 Chalk Couture offers everything you need to make dozens of projects – from home decor to restaurant menus to chore charts – the possibilities are literally limitless. Lorri sent me several items to try for this year's Mother's Day Gift Guide. I was excited to get to try it out on my own after watching how easily she made such gorgeous designs on her Facebook Page! The hardest part about Chalk Couture is deciding which project to make first!!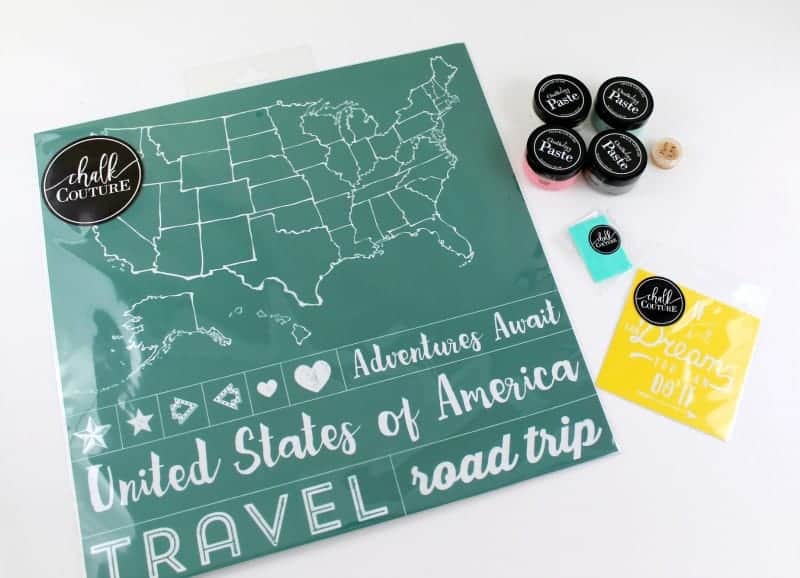 With Chalk Couture, you choose your "canvas" – which is chalk boards that range from as small as 12×12 hanging boards to as large as 26×36 gorgeously framed boards which can be hung or placed beautifully on a desk on a mantle. They are even magnetic! You then choose your Silk Screen Transfers and the colors of Chalkology Paste you want to complete your project. Chalk Couture offers dozens of transfers which can be used alone or layered together to make your final design. They have a wide variety of colors of Chalkology Paste to choose from as well – and Lorri has even shown me how you can blend colors together or use colors side by side for almost a watercolor look!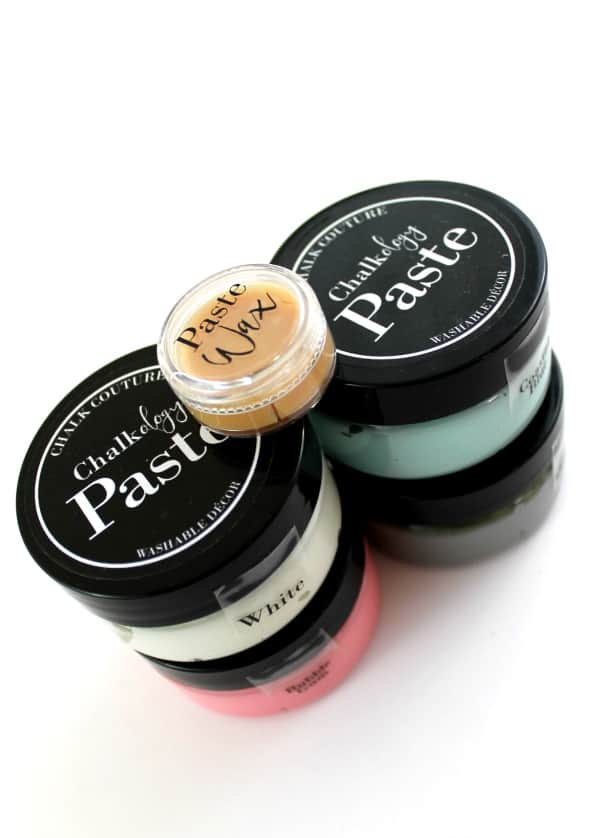 I decided to make my daughter – who is graduating high school next month – a sign for her room. I thought it would be beautiful to hang near her door for reminders of things she needs or wants to do daily. The transfer Lorri sent was perfect – it says "If You Can Dream It, You Can Do It" and her favorite color is pink! It was perfect! I started by wiping down the chalkboard, peeling the transfer and lining it up to the top. I then took just a dab of the Bubble Gum Chalkology Paste and used the little squeegee to gently cover the design. All you need is a nice thin layer – so I can see this tub of paste lasting a long, long time.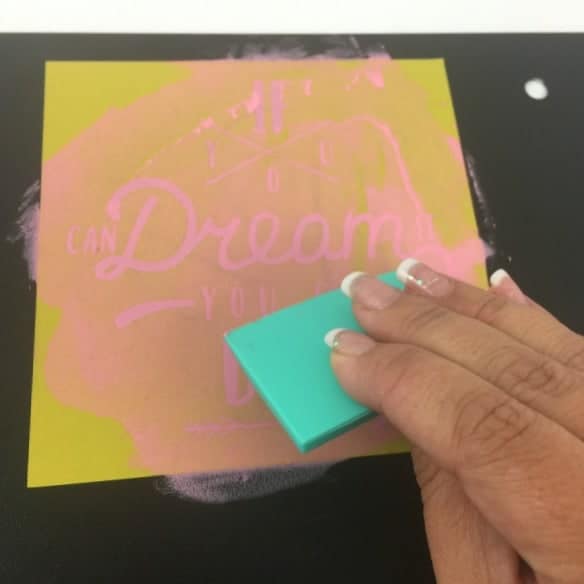 Once the image is covered, you then gently peel off your transfer to reveal your new design! Voila! It really is that easy! If you want to add more, all you have to do is let the first application dry for a few minutes, and then layer on another transfer and repeat! It was so easy and fun I feel like I need to CHALK ALL THE THINGS now!! I mean how cute is this?!!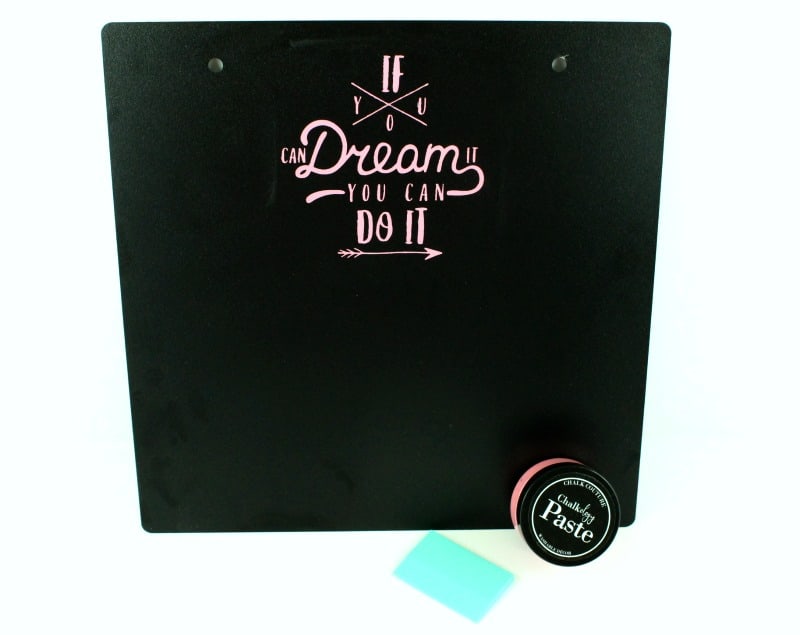 Here is the really fun part… nothing is permanent! The Chalkology Paste will stay on your chalkboard for as long as you want – but as soon as you want to change it, you simply wipe it off with a wet rag and voila! Your chalkboard is ready to be decorated again and again!
With Chalk Couture, you can design your space in a fun and unique way over and over again. As a Chalk Couture Designer, you can build your business showing others how to make beautiful decor with an innovative ground floor opportunity. Check out Lorri's website to learn more about how you can get involved in Chalk Couture!
*GIVEAWAY*
I am excited to offer one of my readers a Chalk Couture Set with one 12×12 Magnetic Chalkboard, Transfer and your choice of two Chalkology Pastes so you can begin making your own beautiful designs from Independent Chalk Couture Designer Lorri Moffatt. You can enter using the RaffleCopter widget below! Good luck!
a Rafflecopter giveaway