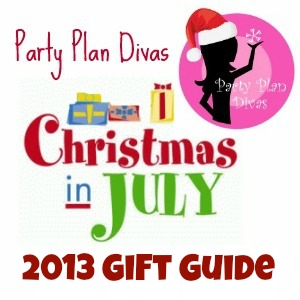 You may remember last November when I highlighted all of the hottest products from the Party Plan Industry just in time for Christmas in the 2012 Diva Holiday Gift Guide.  It was a huge hit with over 35 companies and products being showcased, and many given away.
Well, we are doin' it again!
When you buy from a small home business, you are not helping a CEO buy a 3rd vacation home. You are helping a Mom put food on the table, pay a mortgage, a little girl getting dance lessons , a little boy's jersey for his football/soccer team or helping a student pay for college. Our customers are our shareholders – and they are the ones we strive to make happy. Thank you for supporting small home businesses!
Every day in July I will be featuring a hot new product from over 50 Party Plan Companies nationwide for the 2013 Christmas in July Blog Event here on The Party Plan Coach.   Every one of these Divas is working hard to build her business and support herself and her family with her Home Based Business. These ladies are moms, wives, students, sisters, teachers, grandmothers, caregivers, …and small business owners. I encourage you to check out these products, enter the giveaways, check out these ladies websites, and see who on your Shopping List you can gift while also supporting one of your Diva Sisters.
This is an event you are NOT going to want to miss!  Check out all of the hottest new products from the Party Plan Industry in the Party Plan Divas Christmas in July Blog Event!
Companies being Represented:
Arbonne
Avon
Barefoot Books
Bathologie
BeautiControl
Bedroom Kandi
Blessings Unlimited
Celebrating Home
Clever Container
Close To My Heart
Color Me Beautiful
Creative Memories
Daisy Blue Naturals
Damsel in Defense
Diva Girl Parties
Dove Chocolatiers
Fleur De Vie
For Every Home
Gold Canyon
Grace Adele
Initial Outfitters
Initials Inc.
Intimate Exp
It Works
Jamberry Nails
Jewel Kade
Jordan
JR Watkins
Kitcheneez
LBRI Pure &Natural
Lia Sophia
Lindt Chocolate
Miche
Nerium
Pampered Chef
Paparazzi
Party Gals
Party Lite
Passion Parties
Pink Papaya
Pink Zebra
Posh
Premier Jewelry
Pure Romance
Rodan & Fields
Sarah Blaine
Scentsy
Send Out Cards
Slumber Parties
South Hill
Stampin UP!
Stella & Dot
Traci Lynn
Tupperware
Velata
Wild Tree
Wine Shop at Home
And more!
Join us starting July 1st  and bookmark this site to come back every day for a new rockin product and giveaway!
Divas, if you are interested in participating in the next Divas Holiday Gift Guide, sign up for our Quick Tips eNewsletter in the top right hand corner of this blog to receive mailings and updates from Party Plan Divas!
Let's PARTY!