Intimate Expressions is an adult in home romance party company that specializes in romance enhancing products.   Through Independent Romance Advisors customers are able to host and attend in home parties where they are able to see products in person and get personalized and private ordering.  Intimate Expressions has a variety of products from naughty to nice and everything in between.

Independent Intimate Expressions Consultant Crystal Takacs provided some great versatile (and nice) products for inclusion into this 2013 Party Plan Diva Holiday Gift Guide.  These products are the more tame end of the product line.  The Mini Heart warmers are SO useful for not only massage purposes but also for a heating pad for that time women dread so much (slip these into a sock and place on your back while laying on the couch and you've got the perfect PMS buster, add in a little chocolate and what more could you ask for?), but also great for winter at the bus stop with Little Diva.  I can place one of these into my jacket pocket to keep my hands warm, while it doesn't snow here in Sunny Florida it can be quite brisk at 6:30am waiting on the bus.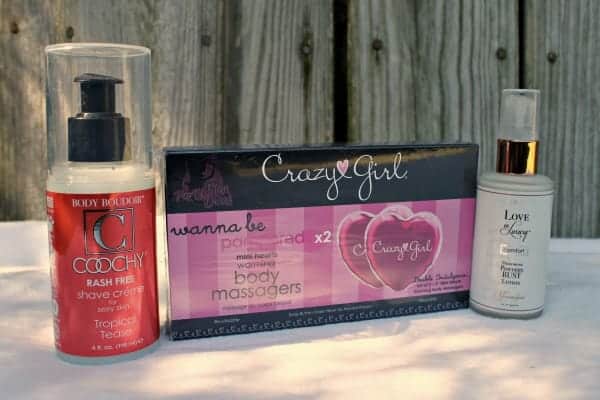 Now the Shave Creme is something I've long told my friends about.  This Shave creme is an amazing alternative to shave gels and creams you can buy at your local drugstore.  What sets it apart is this Shave Creme softens even the coarsest body hair resulting in a smooth and moisture rich shave anywhere on your body.  It's the perfect creme for intimate areas to prevent the embarrassing razor rash and ingrown hairs but also great for legs, underarms and even for a mans face.  Because it's enriched with things like Jojoba seed oil and Vitamin B5 among other things it's truly a step above your regular shave cream.
Crystal also included the  Pheromone Powdery Bust Lotion.  This unique formula applies like a lotion but dries into a power smooth as silk. This product is perfect for relieving the irritation caused by chaffing of your undergarments but even better use it daily to PREVENT that.  It's perfect for keeping perspiration at bay especially in those prone areas we all seem to have trouble with.    This talc free formula is made with Tapioca starch which provides a luxurious soft feeling.   This is almost a staple for our hot summers.
Check out Crystal's website to see all of the mild – and wild – products from Intimate Expressions, and enter to win Crystal's "Must Have Winter Kit" below!
Sharing Is Caring! Please Share This With Your Team and Colleagues!
Related