What do you get when you put two of women's favorite things together in one product – and then add the element of surprise? You get Jewelry In Candles of course – a direct sales company that exploded on the scene with their amazing smelling soy wax candles with your choice of sparkling jewelry hidden inside! Now called JIC Nation, they have grown to tens of thousands of Independent Representatives that are building businesses selling their original candles and tarts with hidden jewelry – but also now offer a line of skin care and weight loss coffee as well. JIC Nation is breaking records and changing the lives of families all over the country.

As an Independent JIC Nation Representative, you can run your business on your terms – you can host in home and online Reveal Parties, participate in vendor events, sell one-to-one, or sell solely online with their beautiful online websites. New Rep Kits are just $99 and include scent samples, catalogs, order forms, hostess brochure, a candle and a tart. Their FireStarter Program helps Reps to build a solid foundation for the growth of their business in the first three months. They also offer monthly specials for their Reps to pass along to their customers as well as new scent releases almost weekly to ensure a constant flow of new opportunity for you to grow.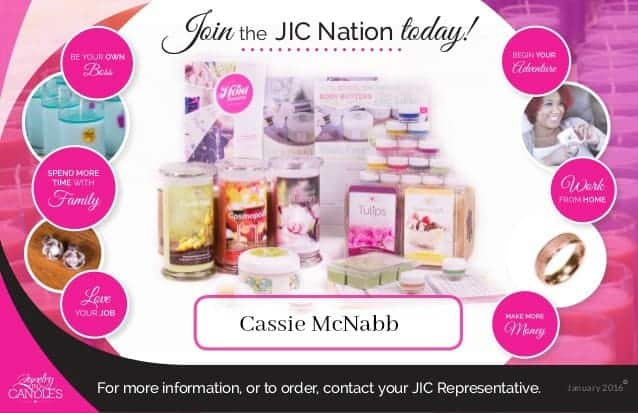 You can join Independent JIC Nation Rep Cassie McNabb's team today and have immediate access to their online training, massive JIC Nation online community, and begin selling from your exclusive online webstore right away! Cassie says she is passionate about JIC because "it has helped me meet new people and get out of my comfort zone and I want you to join because you are ready to work from home and support your family like you have always dreamed of." You can check out Cassie's site to learn more about how you can get involved with JIC Nation and be sure to also check her out on Facebook, Instagram, and Pinterest.
Sharing Is Caring! Please Share This With Your Team and Colleagues!
Related