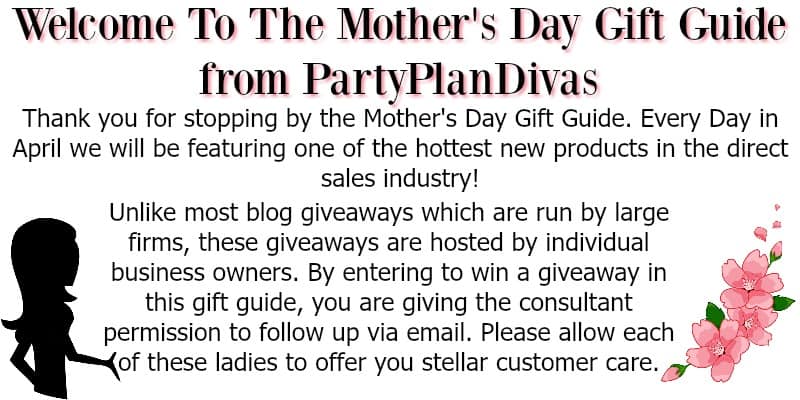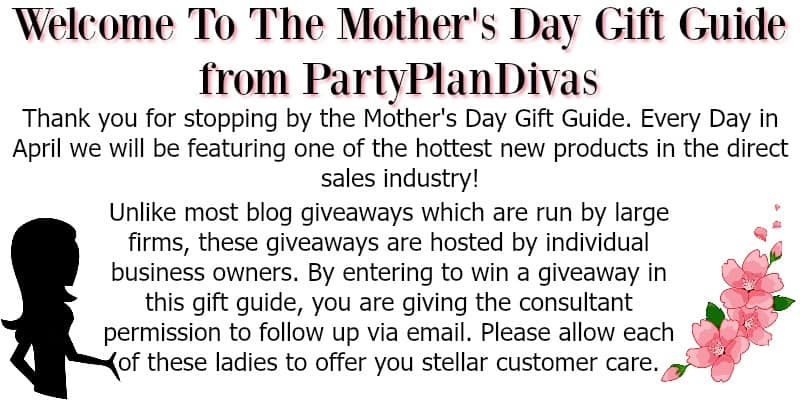 On of the things I love most about the direct sales industry is watching a company grow their product line from one or two key products to a complete line of amazing, beneficial, must have products for everyone. This is especially true with one of my long-time favorite companies – Jewelry in Candles!  In fact they have had to change their name to JIC Nation because they are so much more than just candles! Since the beginning JIC has been committed to only offering the absolute best products with eco-friendly ingredients – all with a surprise piece of jewelry inside! What began with one candle made in just a regular household crockpot has now grown into a multimillion dollar company that offers everything from candles to skin care – all with their signature hidden jewels.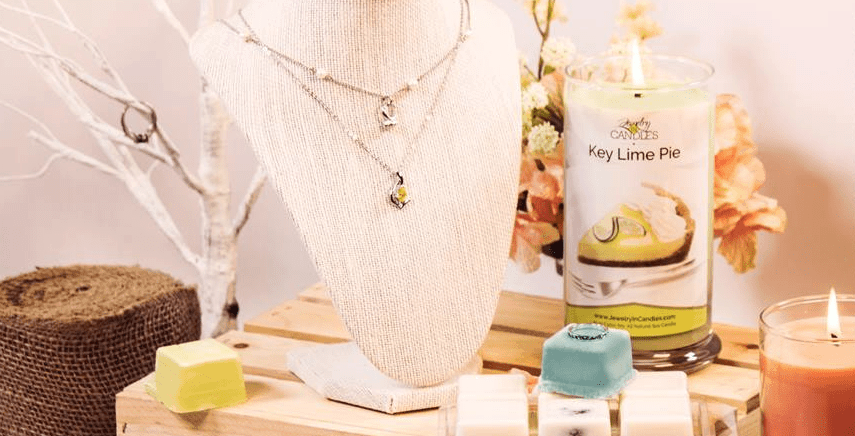 When Independent JIC Nation Consultant Cassie McNabb wanted to "surprise me" with what she sent in for this year's Mother's Day Gift Guide I was delighted. I have always loved anything from JIC! As always I fell in love with the scent before I even opened the packaging – JIC always has the best smelling packages! When I opened the box to find one of their brand new Eucalyptus Mint Charcoal Bath Bombs I was stoked… and truth be told I stopped what I was doing to hop in a warm bath in the middle of the day… you know, for research and all. 😉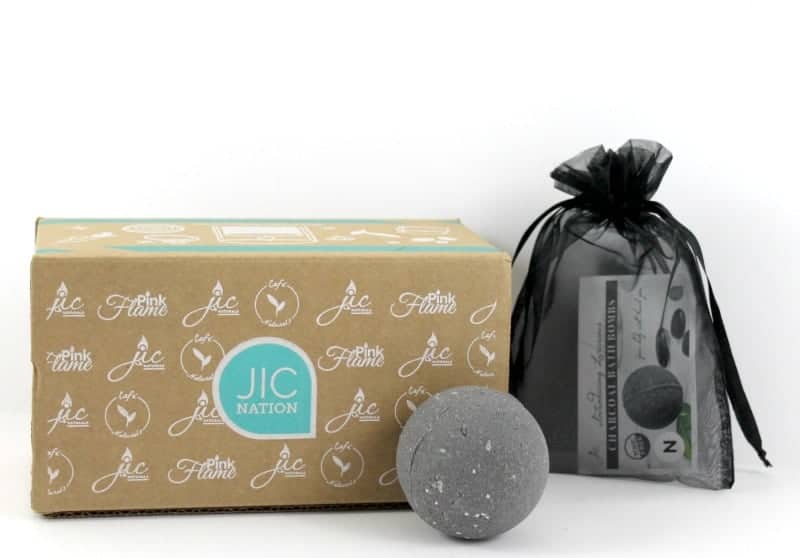 Wash away the day's stresses and unwind with JIC Naturals' Eucalyptus Mint Charcoal Bath Bombs. The effervescent activated charcoal and eucalyptus mint fragrance will invigorate your senses and melt away your tensions. Simply fill your tub with warm water, unwrap your bath bomb, gently drop it in, close your eyes, and begin your restorative and relaxing spa experience. The natural ingredients will detoxify and exfoliate your skin, leaving it soft, smooth, and hydrated.  As your 100% ToxicFree bath bomb dissolves, reveal your very own stunning necklace or earring set. Following your rejuvenating soak, rinse your tub to remove any remaining charcoal residue.  Relax, restore, and reveal silky smooth, baby-soft skin.
After snapping a few photos I immediately drew up a bath and literally tossed my bath bomb in. The JIC Naturals' Eucalyptus Mint Charcoal Bath Bomb made my entire bathroom smell amazing. After just a few minutes I noticed some pink foil shining through – talk about exciting. I quickly unwrapped and found a beautiful little necklace inside.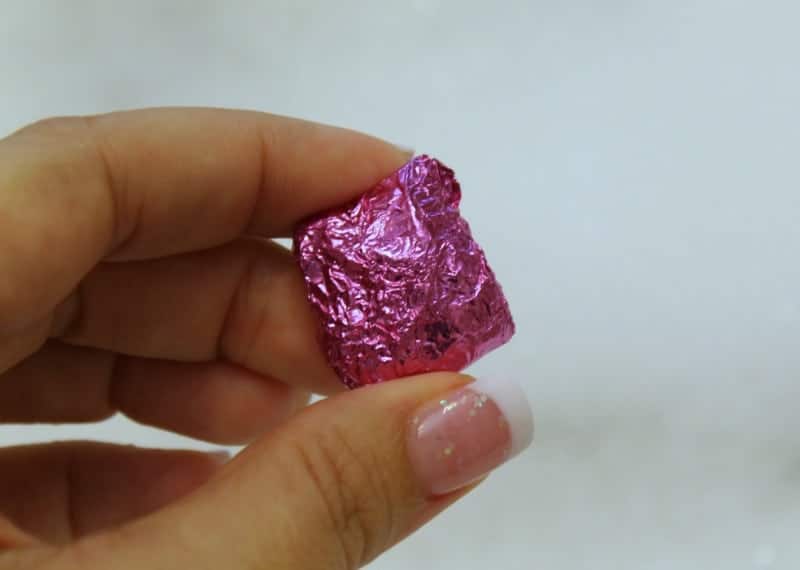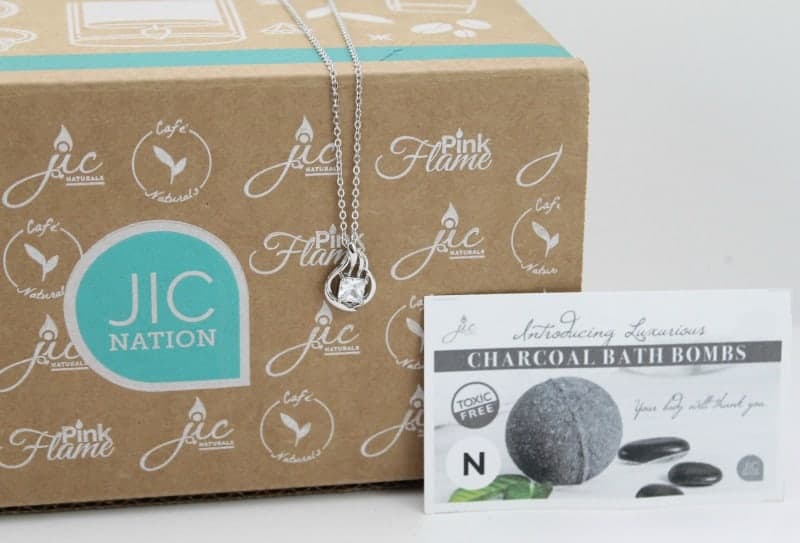 JIC Nation offers an extensive line of candles, tarts, warmers, body butters, scrubs, bath bombs and more – all with a beautiful piece of jewelry hidden inside. As a hostess, you can earn free products by sharing the fun and excitement of a reveal with your friends and family. As a JIC Nation Representative, you can build your business how you want to – offering Reveal Parties, participating in vendor events, or running it solely online. The choice is up to you! You can check out Cassie's website to learn more!
*GIVEAWAY*
I am excited to offer one of my readers a $25 shopping spree from Independent JIC Nation Representative Cassie McNabb so you can choose which of JIC's products you want to try! You can enter using the RafleCopter widget below! Good luck!
a Rafflecopter giveaway