Mary & Martha is a small company with a big heart.  They offer a complete line of products meant to inspire, encourage and invoke love and happiness in every day things. Their community is made up of women who strive to love God and love others by encouraging women to share life together. They do that through home parties called "Gatherings" where their gorgeous products are showcased, as well as through their community of Mary & Martha Consultants. Mary & Martha believes we are created to share life together during the good and the hard times. To them, there is nothing better than knowing that their company is based on Christian values and prayers over every decision. All of their business kits are even prayed over before they ship out to the new consultants!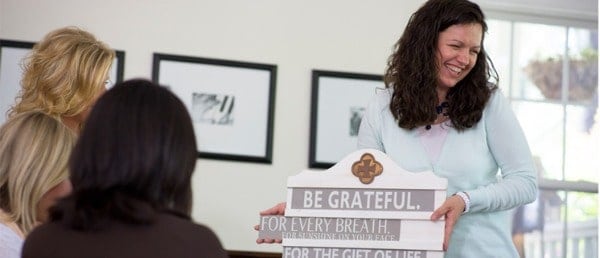 Mary & Martha offers Consultants the choice of two kits to choose from and offers the ability to have an online website as well as encourages you to do in home parties, catalog parties, vendor events, and one one one shopping. They even have a corporately designed email that goes out every month to all of your customers to help you stay in touch and grow your Mary & Martha business. Their Great Start program can help you earn extra incentives for building a foundation for your business in your first 30 days with the company. Mary & Martha's exquisite products and generous compensation plan make it easy for you to change your life by inspiring other women to take time for what really matters most – our faith and family. There is even an incentive to join the company this November: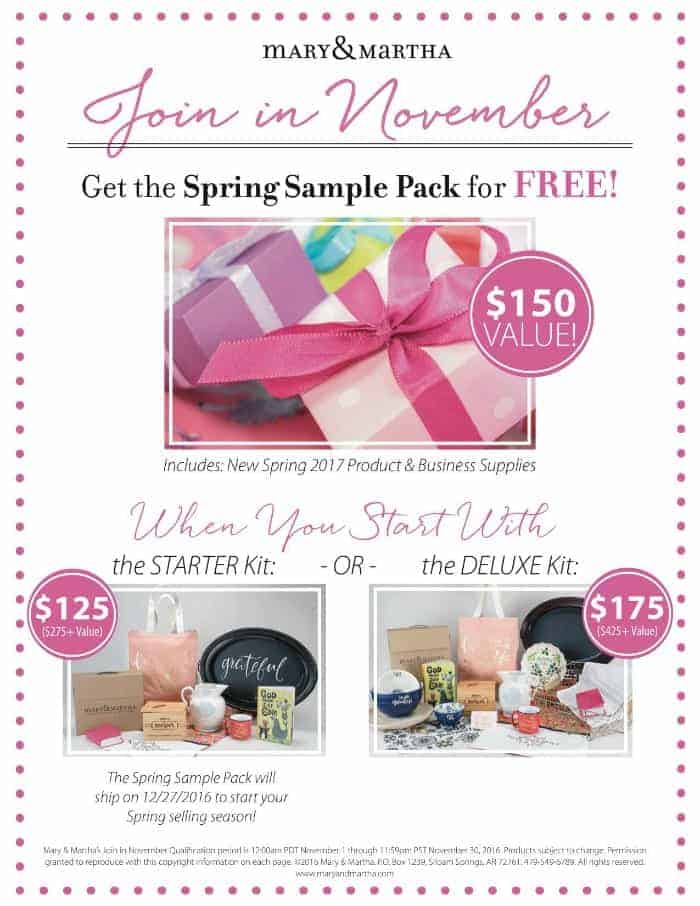 Independent Mary & Martha Consultant Jerri Sargent is one of those women who is changing her life through Mary & Martha Gatherings. Here is what she had to say: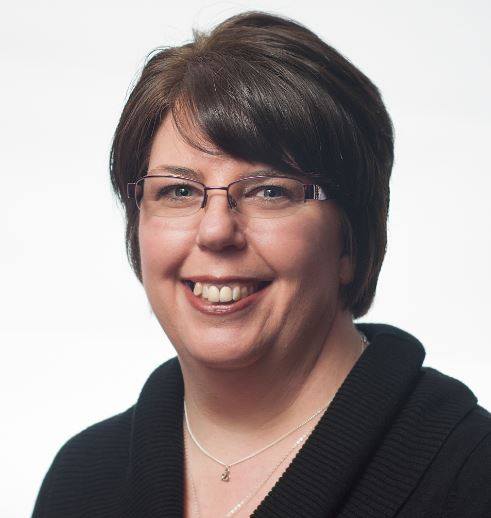 The past eight years with Mary & Martha have been a huge blessing in my life. The faith journey alone has been worth it. I started my business only a few years after becoming a Christian. I was looking for a way to make an impact in the world. I didn't realize then the beauty of combing my work & faith. Earning an income for my family while making a difference for His Kingdom. God works through us when we reach out and encourage and love others. We may not always see the impact we are making but we have faith that we are making a difference. I love being part of an amazing community of Christian women who lift each other up, share ideas, laugh and even cry together. We are made to share life together. How blessed are we to be able to do all of that and more while earning an income. You can too! We'd love for you to join us on this amazing journey!
Be sure to check out Jerri's website to learn all about how you can join Mary & Martha and also visit her on Facebook!