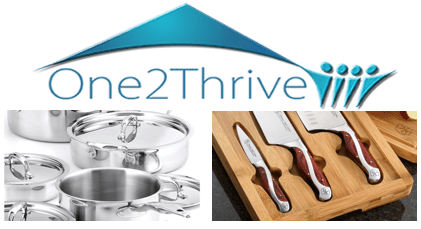 Helping families everywhere THRIVE not just survive! One2Thrive takes a holistic approach to helping people focus on what's most important: time with the people they care about, good nutrition for a healthy lifestyle and the financial freedom to enjoy it all. Our products are best-in-class, bringing professional-grade quality into your home at a tremendous savings. Many of our products are MADE IN AMERICA from our factory in Clarksville, Tennessee.
One2Thrive Ground Floor Direct Sales Opportunity
One2Thrive launched in early 2013 and is one ground floor opportunity that's for real. Become one of the first in your area to spread the word and reap the rewards.
By joining our team you'll experience:
Quality products with a lifetime warranty
A highly competitive compensation plan designed to reward you every step of the way
15 – 25% sales commissions, paid weekly
Fast start program for additional sales commissions for your first 90 days
NO Inventory to carry
Fabulous hostess plan
Product ships direct to customer
Great sales support programs such as our Bridal Rewards and Ultimate Kitchen programs
A corporate staff with more than 100 years of combined experience dedicated to YOUR success
Prior leadership experience in party plan?  Ask about our Presidential Program!
Call or email me today!!
Dan Arwine
Director, Business Development
One2Thrive
224-392-3651
darwine@one2thrive.com
www.one2thrive.com