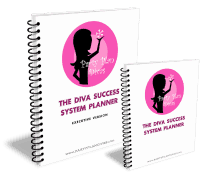 The Diva Success Planner is the only planner ever created with the Party Plan Professional in mind! Every element of The Diva Success System is incorporated into this all-in-one planner.
Designed for New Consultants as well as Million Dollar Directors, The Diva Success Planner keeps your business (and your life!) organized and at your fingertips!
The Diva Success System Planner is the first organizer to be designed specifically for Party Plan Professionals. Our unique industry requires a unique system for success! By implementing The Diva Success System into your business, you will see results immediately in your Party Sales, Your Recruiting Efforts, and of course your level of Organization and Balance.
**The Diva Success System Planners come undated – so you will be able to use your planner for an ENTIRE YEAR no matter when you order!**
Check out this video for a full walk through the Diva Success System Planner:
*NEW* Diva Success System Leadership Planner – featuring everything you need to run your own personal Direct Sale Business while still effectively working with your team!  Check out the video to see everything the Diva Success System Leadership Planner has to offer!
2015 Diva Success System Monthly Wall Calendar
Focus your time on PROFIT PRODUCING activities with this handy desk or wall monthly calendar. The Diva Success System is easily laid out in this time management calendar – giving you one task to do every day to move your business forward.
Diva Success System Party Bank
Never run out of Party Bookings with the new Diva Success System Party Bank!   This 148 page Party Bank is available in a download or wire-bound printed version.  Party Bank includes monthly calendar, contact and follow up forms to keep you organized and on top of all future bookings! *NOW UNDATED – meaning you can use it for one full year no matter when you order!* Keep your calendar full year round with the Diva Success System Party Bank!  Check out the Video on how it works: