We all know how crucial email is to business today.  With nearly 300 billion emails being sent daily Worldwide, it is important to make sure your email stands out from the crowd and gets noticed!  Finally I have found a FREE way to do just that!
Introducing WiseStamp – the free Add-on offering customizable, SOCIAL email signatures for all of your Gmail accounts.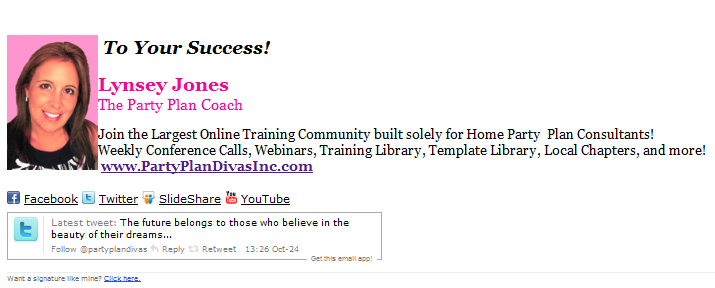 With WiseStamp is available for Firefox, Chrome, and Safari and works with Gmail, Yahoo, AOL, and Hotmail email platforms.   The free account will allow for two different signatures – I have one for Party Plan Divas (above) and one for my personal blog.
"Email Apps enable you to easily customize your email signatures with your personal social profiles and allows you to add to each outgoing email dynamic content such as your latest eBay item, recent blog post, your latest tweet or a cause to promote. The recipients of your email will see the updated content of the Email App and will be able to also interact with it directly from the email (e.g. retweet or follow in the Twitter App or buy in the eBay App)."
With Wise Stamp you can add social icons to your emails – including Facebook, Twitter, YouTube, StumbleUpon, and many more.  You can also import your recent Tweets, Blog Posts, Favorite Quotes, and more – all with a "next action step" of being able to Follow you, Become a Fan, etc directly from the email, bettering your chances of building your social media presence.   It truly "socializes" your emails!
I have been paying for a similar app for months, not knowing there was a free version which gives even more functionality with the real time Twitter, eBay, and other Social Media updates.  I have promptly canceled the other service, and begun using WiseStamp – already receiving compliments on the change!
Download WiseStamp today and start making every email work for you!