Thanks for stopping by the 2012 Diva Holiday Gift Guide from Party Plan Divas! Every day in November I will be highlighting some of the hottest products from the Direct Sales Industry – along with tons of great giveaways – from Independent Consultants across the USA. Help support small businesses this Holiday Season by shopping from Party Plan Consultants and make a difference in someone's life! You are going to be shopping this season for your loved ones, why not help some one directly by buying through an Independent Consultant in Party Plan? Thanks for stopping by! Happy Shopping!
In the last year or so I have seen a real shift with our society. People are getting more and more concerned about the chemicals they put in their body, as well as surround themselves with at their home and workplace. The terms "natural" and "organic" are popping up more and more, and unlike in years past, these products are coming at a price that everyone can afford.
H2O at Home is a brand new Direct Sales company bringing this same philosophy to homes across the world with Advisors in the USA and abroad in Belgium and France.  Through in home "Get Togethers" you can learn how to keep yourself, your home, and your workplace spotlessly clean, without having to use hash chemicals.
H2O at Home is a company that is constantly moving forward. From its inception in France over 13 years ago,we have always and continue to think outside the box. We create products that make life easier while we hold true to our environmentally friendly and chemical-free values. In 2009 we brought this company to the U.S., a country of entrepreneurs. Our vision is to introduce: our unique products, our clear Direct Sales vision and the idea that you can preserve the environment without making compromises to households across America. Join us and together we can create a brighter future.
I got the chance to personally test a few of the H2O at Home products, and I must admit I was pleasantly surprised.  I have used "green" products before and been impressed with how much they can really do with just the use of water, but the H2O at Home line really blew me away.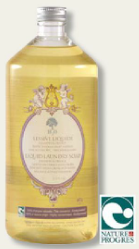 My favorite product is a toss up between the laundry soap and the clay powder.  The Natural Laundry Soap has just enough of a scent to make your clothes smell fresh, but it is so concentrated I literally only needed half of their liquid versus the Tide cup that I normally use.  At $21 per bottle for 100 loads, the H2O at Home Laundry Soap is also more economical than my beloved Tide.
The Clay Powder stuff was awesome though – you lightly dampen one of their Heavy Duty Chiffonettes (towel-like-thingies) and kinda work it into a lather and go to town.  The cleaning power is incredible – I headed outside to my patio furniture to check just how "heavy duty" it could handle… the difference was clear… pun intended.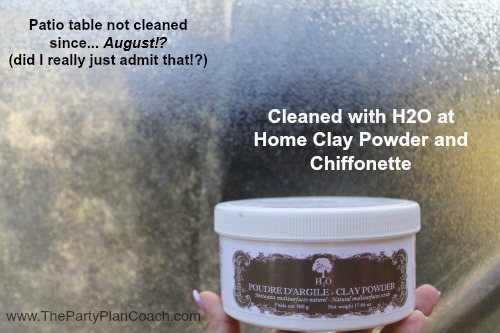 The H2O at Home line of products is as extensive as it is impressive – with everything from home fragrance to skin care to cleaning products to bath robes.  You can check out everything H2O at Home has to offer on their website – http://us.h2o-at-home.com/