Are you ready to be a part of the biggest Gift Guide Event of the year?! The 2016 Diva Holiday Gift Guide is now accepting applications from Direct Sales Divas all over the world! Read all about this event below and sign up to apply for your spot as the ONE DIVA to represent your entire company this holiday season! You can also view this video in our PartyPlanDivas Community.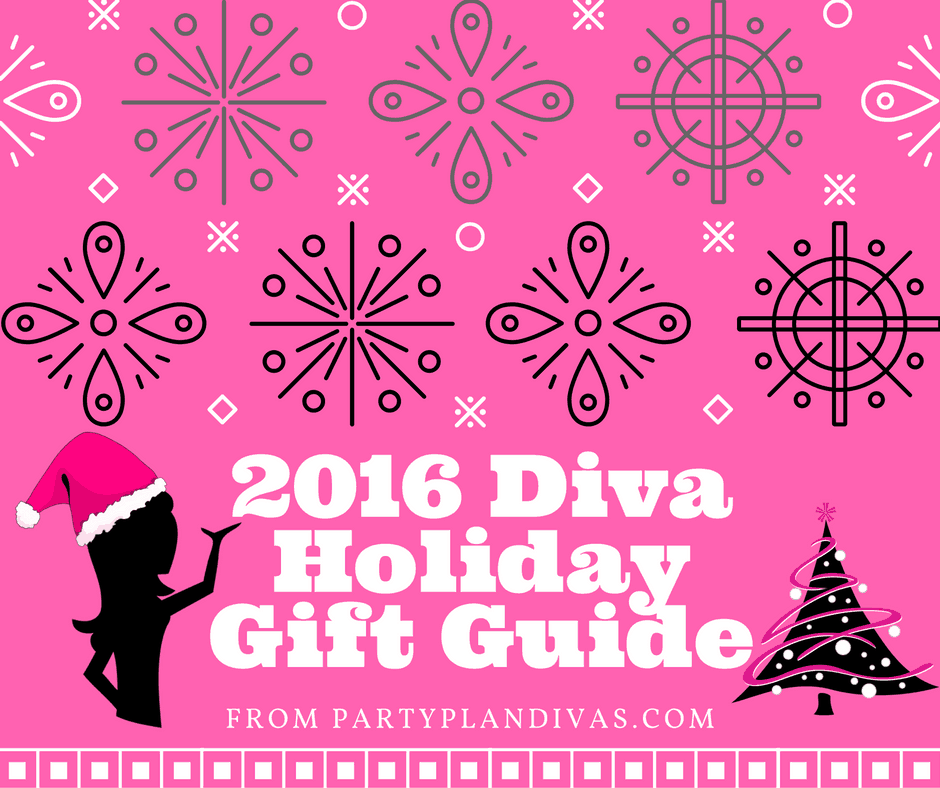 The Details:
The 2016 Diva Holiday Gift Guide will be publicized to our Facebook fans (14,000+), Facebook Community (10,000+) Twitter Followers (7,800+) and emailed to my subscribers and networks (13,000+) as well as Giveaways being listed on dozens of popular giveaway sites and blogs.
The Gift Guide will begin on October 1st and run each day through October 31st. With an average of over 80,000 visitors a month to the site and the time each day I spend on advertising and promoting, your product and business will get maximum exposure.
Here is how you can join the 2016 Diva Holiday Gift Guide and gain publicity during the event. Please note we have made several changes from our previous events.
The cost to participate in this year's Diva Holiday Gift Guide is $25 PLUS ANY ITEM YOU CHOOSE from your product line. There is no minimum or maximum retail cost – I want you to send me YOUR absolute favorite "everyone – should – have – this – product" from your CURRENT product line. The item must be brand new and in original packaging – but can literally be anything you choose. We want to feature the absolute best products in the industry – regardless of the cost! (I know one of my FAVORITE items from direct sales is only $18! But I think EVERYONE needs it!)
Each review will be a 300+ word write up about whatever product that you send, along with mentions of your hostess plan, business opportunity, and of course links to purchase and to your social media outlets. I will include photographs of the item as well as any other information you would like me to include.
EVERY POST must include a giveaway. You can choose to give away one of the same items you sent for review OR a $25 shopping spree to your company. The giveaway is in order to collect interested leads so that you can follow up with your new potential customers. Giveaways will be run with RaffleCopter and will span 14 days. At the close of the giveaway the widget will choose a winner which I will email to you to contact and arrange delivery. Once you provide me with proof of shipment of the winners goodies, I will send over the rest of the leads for you to follow up however you wish. A disclaimer will be put on each post explaining that by entering the giveaway the person is giving permission for you to follow up via email.
*PLEASE DO NOT SEND ME TWO PRODUCTS – you are responsible for the shipping to me and to your new potential customer who wins.
The Not-So-Fine Print:
*Signups will be open now through Monday, August 22nd. Consultants who are first to respond from each company will receive an email with further instructions on how to pay the $25 fee. If you are the second to respond, you will be next in line in case the first responder does not purchase the spot in her allotted time. I will update our Facebook Community on the timeline and reminders to check your inboxes. Also please make sure to monitor your spam folders and have partyplandivas@gmail.com whitelisted.
*Please make sure you fill out this form correctly – double check your email address, Social Media links, website link, etc. This form is what I use to write the review as well as set up the giveaway forms.
* You will send BOTH the $25 fee PLUS one item of your choice from your product line to be featured. This $25 fee is not refundable. The $25 is due no later than Friday September 2nd. Failure to pay on time will open up your spot to the next consultant in line for your company. The $25 payment holds your spot in the gift guide while your product is being shipped. You can choose whatever product you want to send to be reviewed – there is no minimum or maximum. I want you to send me YOUR favorite item or whatever you think EVERYONE needs. We only want to show the latest and greatest in our gift guide!
* Only ONE DIVA PER PARTY PLAN COMPANY is featured. This is on a first come first served basis. Only the first to respond from each company will be notified of inclusion.
* Exclusive Advertisers on www.PartyPlanDivas.com have first right of refusal for their company to be featured in the Gift Guide event.
* All products sent for review and inclusion in the Gift Guide event must be a new product in original packaging (no display products) and currently available to general public to order thru October 31st 2016. ***Please do not submit Hostess Exclusive products, Monthly Limited Time Special products or otherwise limited availability products for review. The reason behind this is, if we feature the product on the website and readers wish to purchase the item for themselves or as a gift they need to be able to do that without the stipulation of hosting a party or a finding it's a retired product or otherwise limited availability item. This is to help you get orders now and in the future as all reviews WILL stay active on the PPD site indefinitely.
* There will be a STRICT guideline for this Gift Guide and delivery of products. Once you have been approved and contacted as being a participant in this Gift Guide you will have until FRIDAY SEPTEMBER 2ND to pay the $25 fee. This will secure your spot in the Gift Guide. You will then have until FRIDAY SEPTEMBER 9th to provide proof of shipment of your review product to the PartyPlanDivas office. Please note all items are reviewed in the order in which they are received, so sending your item right away is encouraged. If your item or shipping information has not been received by September 9th, your review may not appear in the Gift Guide. Please understand that I have to photograph and write out each 300+ word post for every single item. This is a very time-consuming process to make sure every Diva gets the absolute best review and exposure possible.
* Products sent for review will not be returned and becomes the property of Party Plan Divas.
*Participating in the 2016 Diva Holiday Gift Guide does not guarantee sales, bookings, or recruit leads. This event is designed to help highlight your products, spread the word about you and your company, and drive traffic to your social media sites. We suggest you do your part in helping us spread the word about your giveaway, and follow up promptly and professionally with your leads.