If you already have an account on our website, please
log in
to continue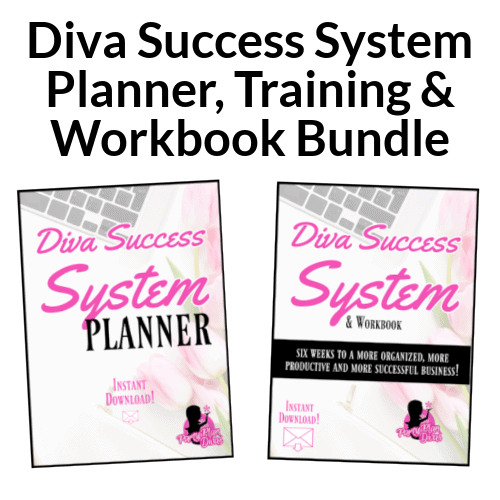 Do you have trouble finding balance between work and home?
Do you wish you could do more training and recognition with your team?
Do you feel like you are losing money, missing opportunities, and running a business with no true direction?
Do you feel completely overwhelmed and even think about quitting sometimes?
Then The Diva Success System is your answer! The Diva Success System is helping Party Plan Consultants nationwide become more organized, more productive, and more successful with their Party Plan Businesses!
Probably the biggest obstacle for any Party Plan Consultant is finding the Organization and Balance to truly be your own boss and run a successful business, while also maintaining a household, possibly another job and family.
Many Consultants say they feel overwhelmed, stressed and that they are working "all the time" and seldom feel they accomplish anything.
By developing a system, you can truly work your business in 30 minutes per day!!
The Diva Success System Workbook & Training is made just to help you create that system, or to plug in to ours...

Inside this 50-page training and workbook you'll find a solid system for success through daily action. You'll be giving the steps to tak to move through your direct sales business with six weeks of incredible forrward action to set the foundation for your future in your business.
Training included in the workbook includes:
Getting Started
Booking Parties
Hostess Coaching
Let the Party Begin
Recruiting
Customer Care
Bundled in with this training is the Diva Success System Planner, custom designed to MATCH the training system.

The Diva Success System Planner Pages include:
Daily Pages
Weekly Pages
Hostess Profiles
Recruiting Profiles
Team Coaching Pages
Event Trackers
Order Forms
Training Organizers
Multi-Company Organization
and more!
Choose exactly how you run your business right in your planner.
Need daily pages to keep yourself on track? No problem!
Need a way to look at your week at a glance to see what you have upcoming? We've got that!
Need lots of room for coaching your large and growing team! Now you can!
The benefit to the download is you only have to purchase ONE TIME to have a planner that will last you for years to come.
Running out of pages? Simply print what you need right from your home computer.
It's that easy!
We even have pages to help Divas who are running two – three – or ever four direct sales companies!
This bundle won't be available forever! Buy now to save $20 on this bundle.
Wishing you all the best!
Angela Wills