If you already have an account on our website, please
log in
to continue
Diva Success System Planner
Save 50% with coupon code "diva" - applied at checkout.:
​​​​​​​

This planner is built on the awesome 3-Step Diva Success System which gives you a simple, effective and FUN way to connect with people who want to host parties, buy your products and join your business.
This planner will help you organize your daily actions and take simple regular actions that get you results.
This planner will help your productivity as you organize actions, remember important info, effectively grow and incentivize your team and more!
Print as many or as few as you need of each page in either full color or black and white grayscale.
Prints on standard 8.5×11 paper which can be bound, put into a binder, organizer, or ARC System. Download Package includes:
Planner Cover
Information and Instructions
Monthly Scheduling
Weekly Schedules
Goal Setting
Order Forms
Event Organizers
Recruiting/Recognition Trackers
Notes
Contacts
and more!
TIP: If you do prefer a spiral bound planner did you know that the ARC Disc System is VERY affordable and easy to use? All you need is the hole punch (around $40) and then you can create complete customized, bound planners yourself at home! So much you can do with this - create your own customized cover for the Diva Planner, add your own pages and more. Just go to Amazon and search "ARC system hole punch" to find the punch, grab your planner here and you're good to go for YEARS and YEARS - much more affordable than buying planners all the time ;)
Daily Planner Page Preview: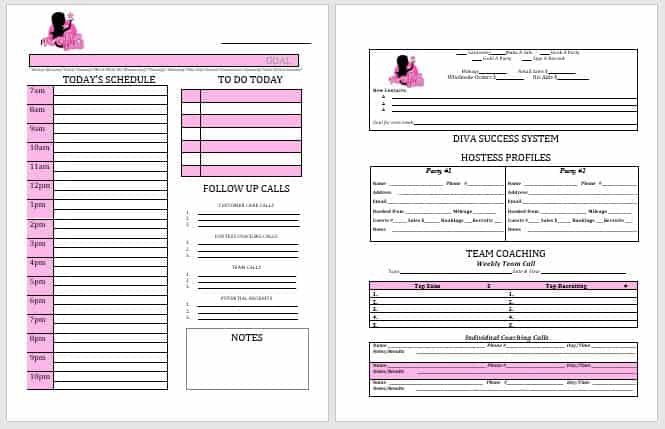 Monthly Planner Pages Preview:

Diva Feedback on the planner:

Weekly Planner Pages Preview: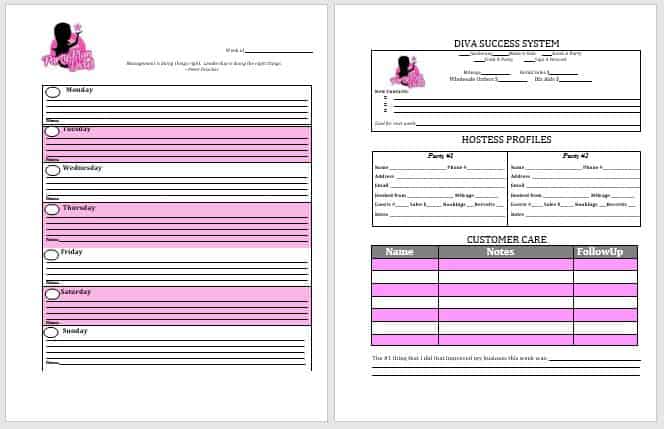 Implement the Diva Success System on a daily basis with the Diva Success System Printable Planner! Super easy to use and print and you buy ONCE. This is a NON-dated calendar being you can use it year after year. Watch your business soar and your team grow after you implement this proven, success system.
More Diva Feedback: