If you already have an account on our website, please
log in
to continue
What to Email Workshop & Training!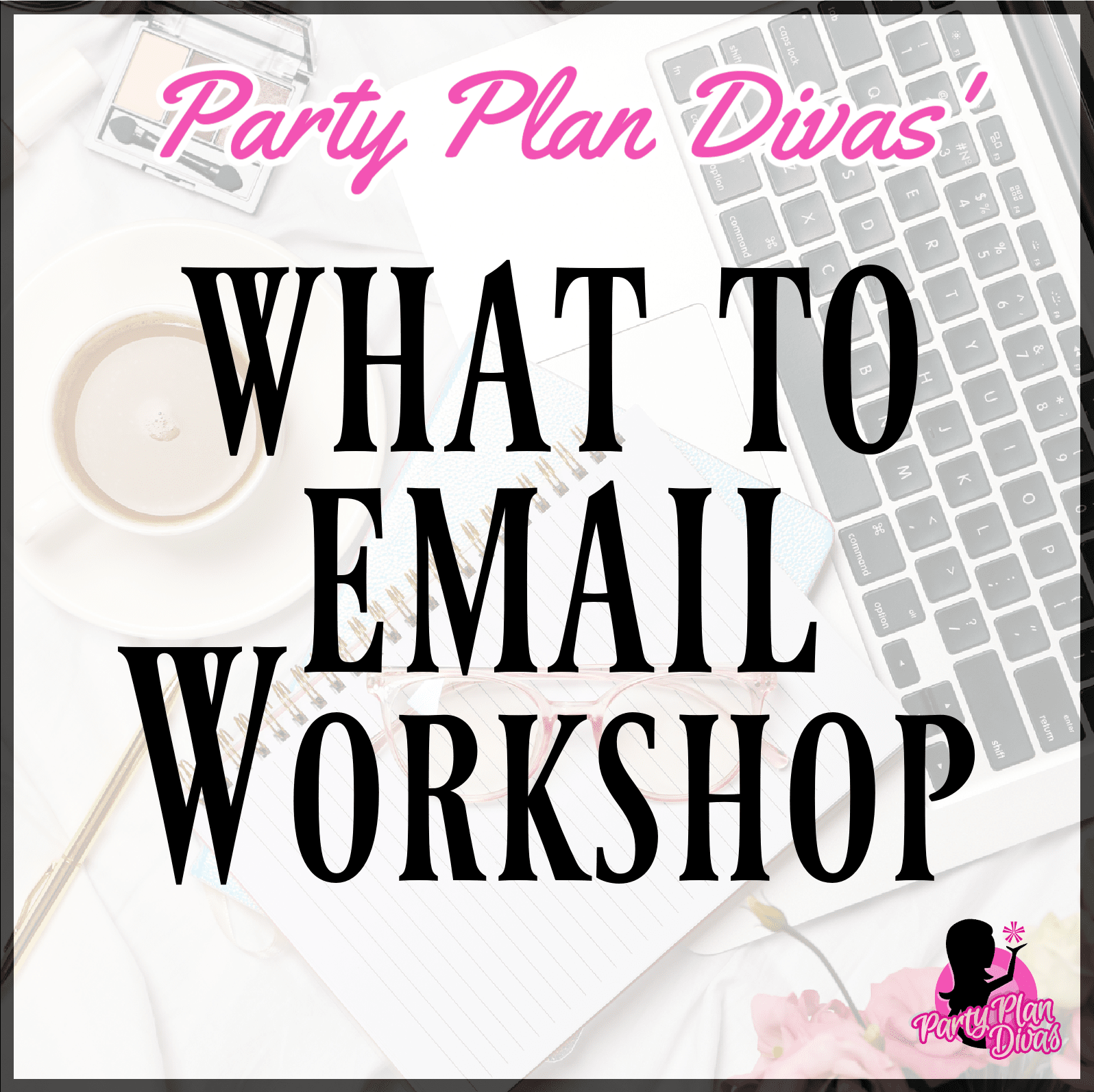 Maybe you have an email list but is it making you sales?
When I surveyed the Party Plan Divas community you told me that many of you have email lists or you know you should have one. It's fairly easy to set up your list. The next step is EMAILING THEM. If you freeze up when it's time to email with fear of annoying people or not knowing what to say or uncertainty if anyone is even listening then this workshop is for you!
Let me be clear:
I've sent regular emails to a variety of niches selling a variety of products and services for YEARS. I've been doing consistent email marketing since I quit my job in 2007.
It works again and again and again!
Here's why:
The people on your list become your BIGGEST fans.
They trust you.
They WANT to hear from you.
They open your emails and give you their full attention (for however many seconds or minutes their attention is captured).
Email marketing is very POWERFUL.
There are no distractions.
It won't cost you extra get an email to EVERY single subscriber.
You can TRACK who opens and who clicks and what's working and what's not.
I highly encourage you to start email marketing for your direct sales business. This workshop will teach you EXACTLY how to get started and create emails that get opens and clicks.
Here's what you'll learn:
Simple Steps to Setup & Build Your Email List - We will start with a walk-through of signing up for and setting up your email list. So if you're brand new to lists this is not a barrier to entry for this workshop. Join us and get your list going!
How Often to Email - Bring an open mind and I will dispell ANY fears you have over how often is too often. You have superfans out there waiting to hear from you!
Niching Emails to Create Fans & a Community - Superfans are the BEST email subscribers. A great way to build that community of people who LOVE to open your emails is to have a niche topic. I'll explain how and provide examples in this piece.
What to Say in Your Emails - I'll share the variety of TYPES of emails you could send (and let you decide) as well as give you prompts and ideas that you can take to use immediately to send regular emails.
WHY People Buy - Without understanding the psychology of why people buy you won't really know what to say to get them to buy. We're going to go through the things that DO prompt purchases and how to use them. I'm not a psychologist but I've been experimenting with my own lists for 15 years and I know what gets people taking action!
Can't wait to see on you there. However, if you can't make it this will be recorded for you.
Here's what you get when you register for this workshop:
What to Email Training (Video - Watch anytime)
Notes versoin of Workshop Presentation (.pdf)
Natural Email Marketer Take-Home Report (.pdf)
It's time to get serious about email marketing. Grab your training by signing up below.