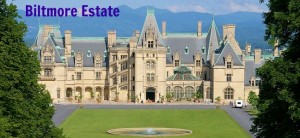 In 1889 George Vanderbilt broke ground for what is now the largest home on American soil – The Biltmore Estate.   The "Châteauesque-styled" mansion is the largest privately owned home in the United States at 175,000 square feet and 250 rooms sits on 8,000 acres in the mountains of Asheville, North Carolina.   But the Biltmore is much more than just a big, beautiful building with amazing gardens- and Biltmore Inspirations Consultants like Melissa Cherry want to tell you all about it.
Biltmore stands for gracious hospitality, amazing design style, and the warm, welcoming feeling of being a special guest in the home of good friends. We want to share that experience with you through Biltmore Inspirations—an outstanding collection of exclusive tabletop products, chef-selected foods, home decor, wine accessories, and regional artist-inspired products, all inspired by the unique beauty of Biltmore.
Melissa Cherry, Independent Consultant for Biltmore Estate, sent me a product that I think not only should be in every home, but in every Party Plan Consultant kit as well!  The Bamboo and Slate Coasters with Stands are not just great to use as coasters to keep rings of your tables, but being little mini chalk boards would be fun to use at your parties, Expos and other events!
These fun, modern coasters do much more than protect your table from rings. The slate surface is a mini chalkboard you can write on to label dishes on a buffet or leave a special message at each place setting. Wipe clean with a damp cloth. Use washable chalk.
I have had so much fun with these coasters – from Littlest Diva using them as place cards on our dining room table for dinner to labeling whose – wine – glass- was -whose during a recent Ladies Night In.
They would also work perfectly for labeling products or product stations at an event or expo – or even to advertise a special!  You can simply erase them to change the special or use a more permanent paint pen to keep the same specials every time.
"From casual cookouts to special occasions, let Biltmore Inspirations make it easy to celebrate every day with style!"