Founded in late 2012, Charmsations personalized jewelry and accessories is bringing perfectly customized and designed fashion jewelry pieces that everyone is falling in love with. The husband and wife team, Matthew and Shelly Eubanks, founded Charmsations which was officially launched online and with an associates program in the summer of 2013. Through years of business and marketing experience combined, Shelly and Matthew used that experience and a passion for all things pretty and developed this truly family owned and operated company. Matthew actually assembles many of the accessories by hand and Shelly lovingly package each order and ships them out. Depending on family and friends during busy time, this is truly the definition of family owned and operated.
Charmsations

Charmsations isn't your everyday cookie cutter jewelry. With a great line of create your own jewelry from bracelets, rings and hair clips to pet collars, craft kits and pre-designed pieces you can create a style that suits you or choose a design that inspires you. With the create your own products you can choose from a range of accessories in type, size and color and then personalize it with your choice of letters and accent charms. With so many to choose from you'll have a hard time choosing just one to express yourself I'm sure! Check out these awesome creations from some of your fellow Divas: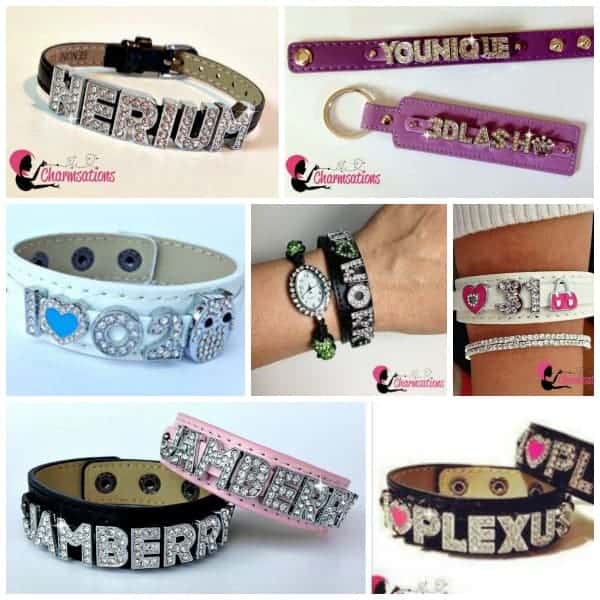 I received some great Charmsations products from Independent Charmsations Consultant Latika Larry to share with you for the 2014 Holiday Gift Guide and I was excited to see what came. The girls LOVED the party kit – we are planning a get together with a few of the Diva girls friends to let them each put together a bracelet using the Party Favor/Craft Kit I received. This kit comes with 10 thin sparkly pleather bracelets and 40 accent charms. The bracelets are adjustable like a belt with 7 holes to size it properly for the wearer and are approx. ¼" wide so they are perfect for Little Divas like my youngest or for teens like my big girl. The assortment of charms wow-ed both the girls. With various things like bows, hearts and shooting stars my teen was having a hard time choosing her favorites of the bunch while my Little Diva was quick to call for the Hello Kitty and animal shaped charms for her bracelet. This is an excellent package to have as a weekend craft, a gift for an aspiring Diva Designer or of course for your princesses birthday event. 
Of course Little Diva laid claim to the Hello Kitty Shamballa bracelet. This is easily adjustable to her wrist by pulling both ends to get the perfect fit.  The sparkling Kitty bracelet is comprised of an alloy rhinestone centerpiece with four rhinstone encrusted disco style beads and four hematite beads to complete this piece.  These also look great paired with the regular sliding charm bracelets. The Strong Pink Ribbon Bracelet I received is awesome and a great way to show your support or to encourage yourself of someone you love.  With Clear Rhinestone letters and Pink Ribbon Charm, this bracelet says it all without ever saying word. The comfortable snap closure band fits great and is adjustable using the 3 various snap settings.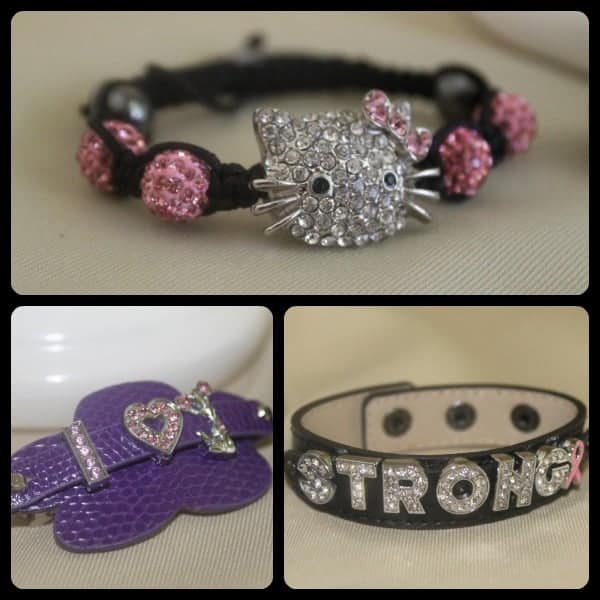 Want to share a message of support, show off your business, show you are your teams #1 fan?   Try customizing your own bracelet or keychain and wearing with pride.  You can even choose Greek Letters to show your Sorority or Fraternity off! Seriously there is almost no limit to what you can create with Charmsations!

As a Charmsations Associate you have low startup costs, no inventory to buy or carry around and you are promoting a truly unique and affordable product that everyone will love.  With a very competitive compensation plan and monthly payouts you truly can earn with a few clicks on the computer.   Charmsations does the hard work for you by providing you with marketing tools such as promotional images, printable flyers, sample emails and more, you can quickly begin earning cash without having sales experience.