Something happened this weekend in Florida… the season changed! Our beautiful upper nineties weather has been replaced with low fifties in the evenings and barely seventies in the daytime.. and while that may sound perfect to some people, it is making this Florida girl freeze half to death. 😉 Thankfully I remembered one of the items I received for the 2015 Diva Holiday Gift Guide, and dug through the shipments to find what is now my new best friend… Hearts of Fire from Independent Cloud 9 Parties Consultant Robyn Burzynski.

The Hearts of Fire is like having a little portable heating pad anywhere you go. With a flip of a disc inside the liquid pouch and within seconds it heats to an impressive 129*! It's perfect for relieving muscle tension, reducing stress, and soothing your aches at the touch of a snap! (Or in my case – warming up cold hands and toes when it is suddenly twenty degrees colder than it was yesterday…) Best of all, you can use it again and again! Simply boil away all of the heating crystals to make it completely liquid again and voila! Ready to be "snapped" and heated again!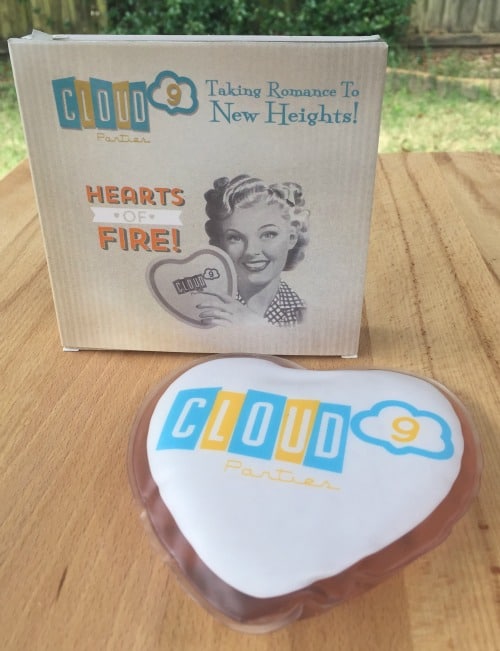 As if that was not enough reason to buy yourself and everyone on your holiday shopping list a Heats of Fire from Cloud 9 Parties, a portion of each sale goes to educate people on the importance of organ donation. Organ Donation is a cause near and dear to Cloud 9 Parties CEO Crysti Sheldon, who lost her daughter in a horrific car accident just a few years ago. The Dr's told Crysti that she would not make it, but she could still save many lives by donating her organs. That day Crysti lost her beautiful little girl, but she lives on in the many lives she saved. "In the US, more than 113,000 patients are waiting for a transplant. 19 people die every single day…waiting. Here at Cloud 9 parties, we believe that number could be zero. We believe that every single person who needs a transplant should get one. If we can increase awareness, encourage more people to register to become an organ and tissue donor, and help raise funds for education and support- we can make a difference. We are very proud to support this endeavor with a percentage of the sale of every Hearts of Fire!"

Cloud 9 Parties is so much more than a romance home party company – it's a complete boutique shopping experience. Customers can pamper themselves with quality spa products, massage items and a wide variety of pheromone perfumes. They offer a luxurious lingerie line and high-fashion jewelry accessories that are in style, in-demand and affordable. Complete your look with beautifully manicured and designed nails. Cloud 9 Parties offers the hottest new nail foils to match every outfit and season! Also, check out their new cosmetics line! It really is everything all in one!