Every year when I do the Diva Holiday Gift Guide there is one thing missing – Holiday Gifts For Men!!! I don't know about you, but choosing the perfect gifts for the women on my list is a piece of cake… the men, however, are a little more difficult. That is why I was super excited when Independent Daisy Blue Consultant Jacque Hobbs said she was sending me the new men's line from Daisy Blue Naturals. I have been a lover of Daisy Blue for years, so I was super excited to have Mike try their products too!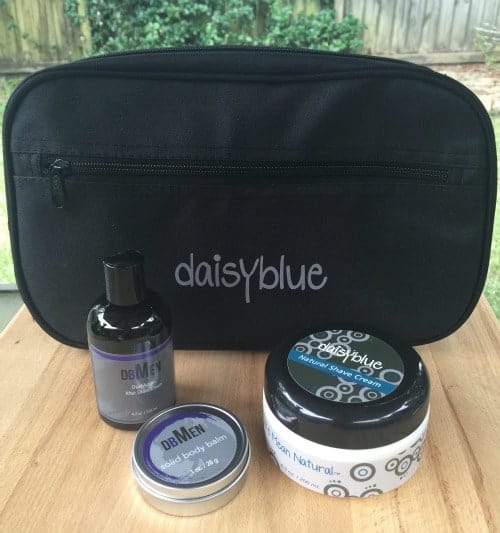 Daisy Blue Naturals began with a new mom worried about what chemicals were in the store bought lotions for her son's precious skin. After much research she began making her own products for her son in her kitchen. Before long friends and family wanted to try her handcrafted soaps and lotions. From the kitchen to the basement and eventually to a 1,200 square foot shed which was her first place of business, owner Jena Thompson learned that many other moms were wanting a more natural product for their babies – and themselves. From there, Daisy Blue Naturals was born.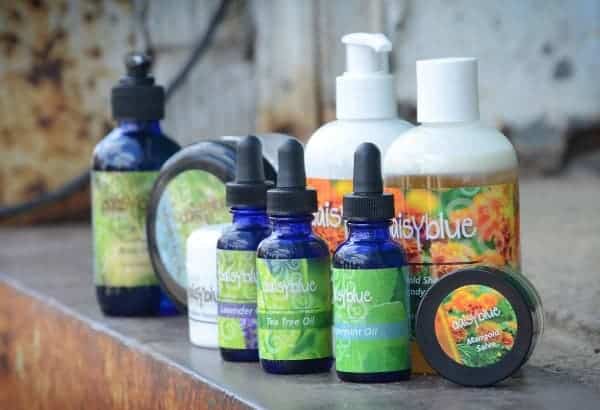 Daisy Blue has an extensive line of all natural products for women, children, and now men too! They also offer scented oils, all natural make up, and more! The Daisy Blue Men's Care Line is the perfect trio for any man on your shopping list. The Men's Toiletry Bag Product Set includes the Natural Shave Cream, Dual Action After Shave Cream, and the Solid Body Balm. It also comes in this awesome Daisy Blue Black Toiletry Bag – which is perfect for Mike when he travels for tournaments and stuff. I admit… I was a little jealous of the bag. I may have to order myself one! Check out all of the compartments and zippers… I could fit all kinds of stuff in there!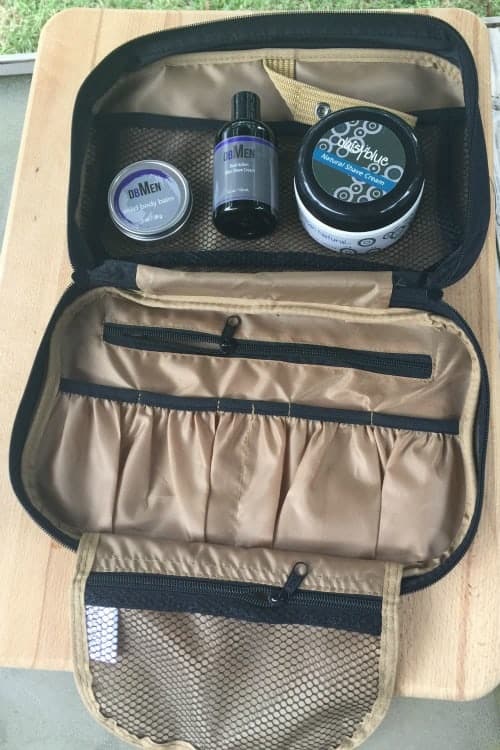 The Daisy Blue Shave Cream is amazing – I fell in love with it last year when I spoke at their annual conference. I brought a tub home and Mike and I pretty much fought over it. He loved how smooth it made his skin feel – especially in those sensitive areas around his neck. Now that he has the Daisy Blue Men's Dual Action After Shave Cream, his skin is not only super smooth, but softer and smells amazing. The After Shave Cream works to soothe and moisturize all day long. The Men's Solid Body Balm is a face and body balm, hand balm, and hair balm. It has a soft but sexy scent of natural pine and  citrus that refresh and energize your skin.