In 1999, new mom Jena Thompson found that she wanted something better for her baby. Jena wanted skin care products that were not filled with synthetic ingredients but was struggling to find these products in traditional marketplaces. With determination and a background in chemistry, Jena set out and created her very first handcrafted soap and lotion. Quickly these two products became favorites of many people around her and she quickly realized that this experience was the perfect platform to not only educate and provide people with natural skin care options but to also an avenue for women to experience their own business success. With that Daisy Blue Naturals was born. Today Daisy Blue Naturals still stands on the core beliefs of providing healthy, natural skin care items with truly natural ingredients. Independent Consultants nationwide have found a way to bring these wonderful, natural skincare products into peoples lives by starting their own Daisy Blue Naturals business.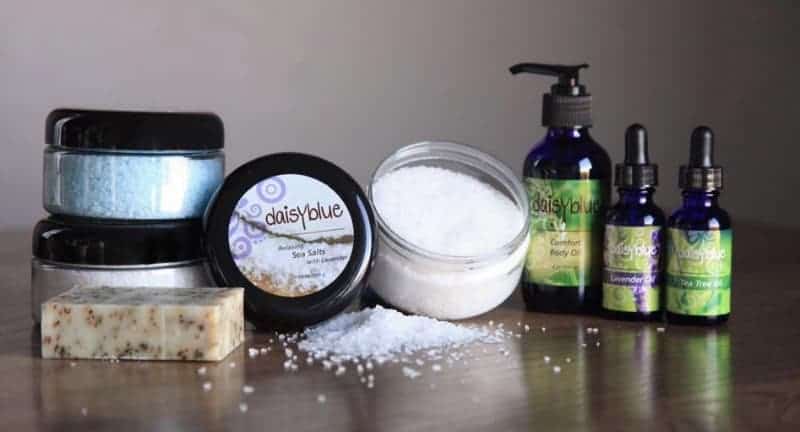 The Daisy Blue Naturals Difference is clear, when they say natural ingredients, they truly mean it! The products are made fresh, by hand and in small batches with natural preservatives and sometimes non-traditional ingredients to keep and make the products healthier for consumers. Daisy Blue Naturals products are paraben, phenoxyethanols and free of other artificial preservatives free. With no phthalates, sulfates, sulfites or phosphates and no artificial fragrances, you will experience cruelty-free products and ingredients that are also gluten and casein free. What DOES Daisy Blue Naturals have? Daisy Blue Naturals have 100% natural ingredients made with medicinal and cosmetic-grade essential oils as well as certified organic ingredients. By using these ingredients in the way nature intended consumers have a 100% safe and healthy skin care regimen that is even safe enough to eat!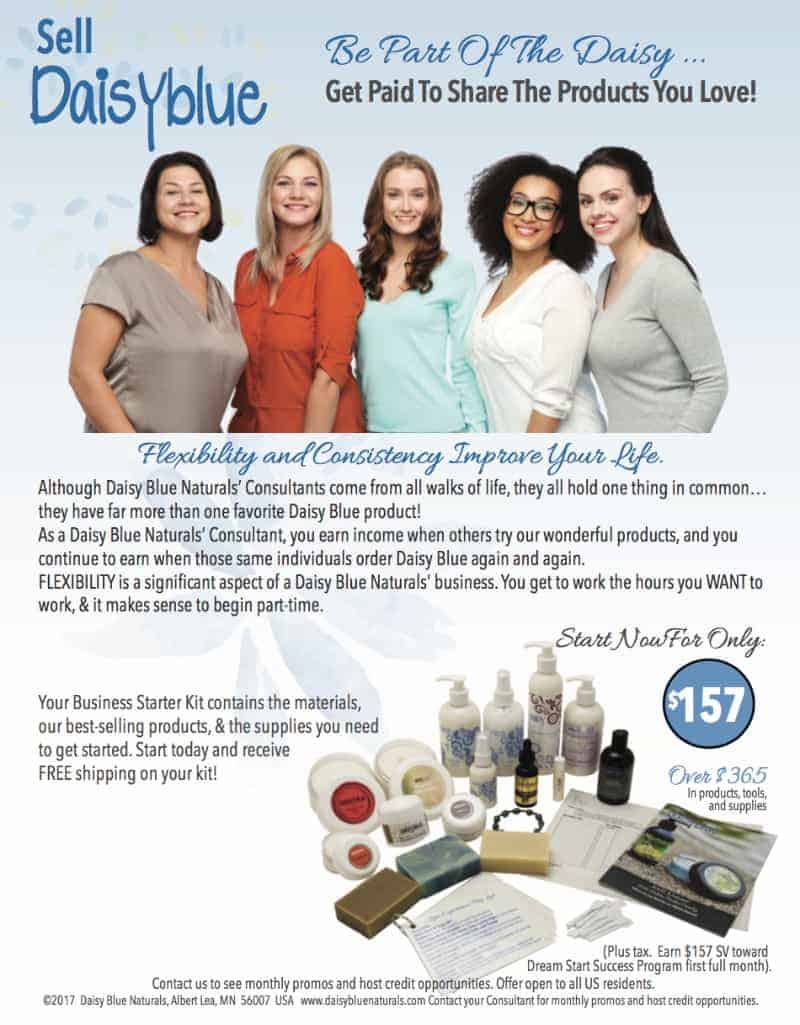 Independent Daisy Blue Naturals Consultant Gina Richardson is celebrating her fifth year with Daisy Blue Naturals! Check out what she had to say about her business: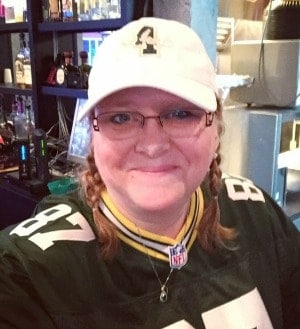 Back in 2012, I went to a women's expo and fell in love with the scent of the almond body butter that the consultants were sampling. It reminded me of my grandma's cookies, and I LOVED how creamy smooth it was. It made my skin feel like butter! I hosted a party a few times, and thought, "Hmmm, I could do this! I want to earn some money on these products." I joined the company in 2013. The relationships I have made with my Daisy Blue "sisters" is something that I treasure. I also have made new friends with customers, and love having me tell them how much our products have helped them. Joining my team is a wonderful idea so I can help you help others too! Our products are all natural, and we don't just say that! You can eat them if you want!
We have several different options to join. You can even join for as little as $35! This option is if you want discounts on the products, but are not interested in growing a team. We don't force you to grow your team. But if you want, then choose the $157 option. This allows you to make a bigger commission, and also make a great team.
You can learn more about how you can get involved with Daisy Blue Naturals by visiting Gina's website and be sure to connect with her on Facebook, Instagram, and Twitter.