If you are looking for natural, really truly natural skin care products then you want to check out Daisy Blue Naturals! In 1999, founder and new mom Jena Thompson knew she wanted something better for her baby than she could find on store shelves and she used her background in chemistry and a determination to create a handcrafted soap and lotion that gave her that all natural product she'd dreamed of.  Others around her quickly became just as fond of her creations as she was and she realized this was the way to provide others with natural skin care products and educate them on why natural is important, and that as a they say is "history". The History of Daisy Blue Naturals beginnings that is!
Daisy Blue Naturals

Even today Daisy Blue Naturals still stands on the foundation they were born on, the belief that providing a healthy and natural skin care product line is important.  Daisy Blue Naturals also creates the perfect vehicle for women to experience owning their own business while educating others about healthy body care.
Independent Daisy Blue Naturals Consultant Sharon Lucas helps women just like you experience a better way of life, the natural life with Daisy Blue Naturals!  All Daisy Blue Naturals products are made fresh and by hand in small batches with natural preservatives and on occasion some non-traditional ingredients to provide you the consumer and healthier and better product. Daisy Blue Naturals products are paraben, phenoxyethanols and other artificial preservative free.  With no phthalates, sulfates, sulfites, or phosphates and absolutely no artificial fragrances, you will always experienec ea cruelty free product and gluten and casein free. With 100% natural ingredients made with cosmetic-grade essential oils and certified organic ingredients, these products are so safe they can be ingested! Not that I'd recommend that, but that means they are safe for even the smallest loves of our lives without fear of harming them.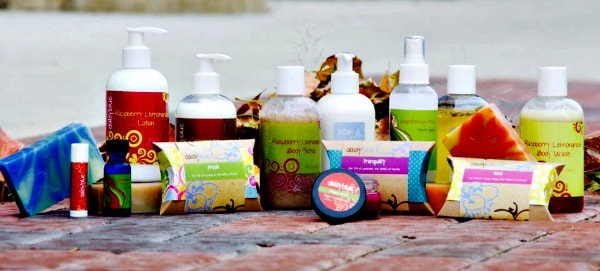 Some of the most popular products are the Awesome Almond Butter which smoothes and softens dry skin and works for 24 hours giving you round the clock moisture. The sweet almond scent is what dreams are made of too! For a non chemical treatment for sunburns we love to use Shea Butter Healing balm because it's got only healing properties without the chemical and byproduct ingredients that can hamper healing.
Independent Daisy Blue Naturals Consultants are not only giving themselves and their families a better life through the use of their favorite Daisy Blue Naturals products but also get to earn a paycheck while sharing products they are passionate about with others.