When I decided back in January that I was going to do a triathlon, I really underestimated the amount of training that was going to be involved. Most nights I was training well past sundown – a few times even having to change my run course to make sure there were enough streetlights for me to see the road. Even in my super safe neighborhood, there were still a few times that I felt uneasy or spooked myself as cars drove by or things moved in the bushes. When I received the Hot Lil's Hand from Independent Damsel in Defense Consultant Bed Bartlett, I began taking it on runs with me. The feeling of security I got was beyond measure, and I was able to again focus on my training – and not what might be in the bushes.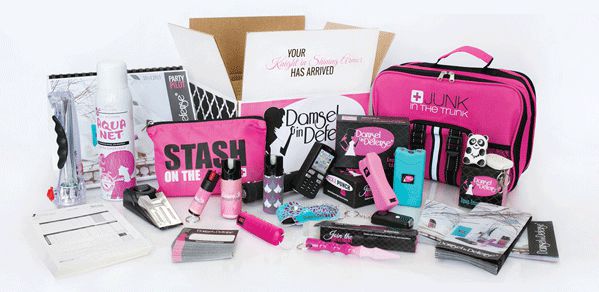 Looking at the US national statistics of crimes against women, owners Mindy Lin and Bethany Hughes knew they needed to make products available to other safety-conscious women. Appreciating safety just as much as a great accessory, they set out and formed a line of safe and sassy products. They wanted a line women would feel fashionable carrying while being Equipped, Empowered, and Educated. The products received an overwhelming response in their home state of Idaho; but being busy moms of little ones, they could not get products to the rest of the country on their own. In October 2011, Damsel in Defense signed it's first Independent Damsel Pro with a goal of 100 nationwide Damsel Pros within a year.
Damsel in Defense is a direct sales company focused on empowering women to feel safe and in control. They have an extensive line of tools to not only keep women safe but also to give them the confidence to know that they have a way out if they ever feel threatened. Their products are all about safety but also with style. From stun guns to pepper spray – Damsel in Defense has you covered.

I love the Hot Lil Hand that Deb sent for the 2015 Christmas in July. It comes complete with a little pink glove to keep the spray off your hands, and shoots up to 16 feet! It is a powerful pepper spray that will quickly and effectively fend off and attacker, without leaving any permanent damage. It is super light weight, so you can wear it any time you need to feel a little more protected. For me it has become just as routine as lacing up my tennis shoes – and while I hope to never have to use it – it sure is nice having the sense of security that if I was ever in danger on a run, I can take care of myself. This would be a great product for any woman who has a long walk to get to her car after work, or maybe walks home from the bus, subway, or parking garage.