Full Name: Beth Clarke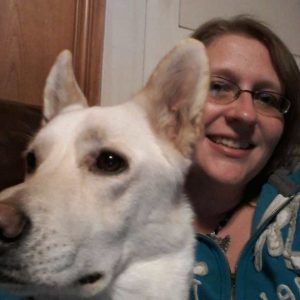 Email Address: gunners_boutique@yahoo.com
Party Plan Company: For Tails Only
Your Website URL: www.fortailsonly.com/gunners_boutique
How long have you been with your current Party Plan Company?: 6 months
Is this your first Party Plan Company? If not, tell us about what else you have done?: No, I also sell Avon (off and on for 10+ years). I use to sell Initials Inc.
What inspired you to get into the Home Party Plan Industry?: I am kind of quiet and shy. This forces me to get out of my comfort zone and make new friends.
What kind of Corporate Jobs have you had? (or still currently have): I worked for two years as a dispatch team leader/ customer service representative at a copier repair company. I then worked for 15 years (10 as a manager) at a Currency Exchange. I loved being in a money service business. I recently left that job and moved across the country. I am now working at Wells Fargo as a bank teller.
What have been some of your major challenges with your Party Plan Company?: For Tails Only is still very new and so many people have not heard of it. I have to introduce them to the company and point out the benefits and all the positives the company does for shelter pets as well as how the products are all made in the US (there by providing Americans with jobs). I also have to get over the hurdle of people thinking they can just go to a national pet retailer or a big box store and buy decent products for a cheaper price. One of my other challenges comes from having just moved to a new area where I do not know many people. I don't have a base to work with of friends and family.
What have been some of your major successes with your Party Plan Company?: The major success I have had is in just a few short months of joining For Tails Only I have introduced the amazing products to many new customers. I participated in my first vendor show ever with FTO and I felt it was fairly successful. I am very confident when I speak about it because it is a product I feel passionate about.
Describe your typical day right now.: Get up and go to work (830-5) on my lunch break I come home to let my dogs out and check For Tails Only emails. After work I come home and do a couple hours of promoting and networking. I make return phone calls and answer emails. After a couple hours of For Tails Only business, I will do dishes or laundry if we do not have company at out house. Every day is a little different depending on the return calls, if I have errands to run, and who is at our house.
Describe what the "perfect" day would look like for you.: I would love to be able to work my For Tails Only Business and make enough every month to not have to work a regular 9-5 job. I would love to be able to have time in the day to volunteer with an animal rescue group. I am currently looking into how to start my own charity organization. It is my dream to be able to have a charity that could help financially struggling people get their pets the routine medical treatment they need. This would include yearly shots and spay and neutering.
On those "not so great" days, what is your motivation to keep going with your Party Plan Business?: My pets. I have three rescue dogs. I don't know what they went through before they came to live with me (I know they are very spoiled and loved now) but I do not want any animal to suffer. For Tails Only does so many good things for shelter pets that if I start to get down I remember the real reason I am doing it…the animals.
What is one piece of advice you would give a brand new Party Plan Consultant?: Pick a product you love and are whole heartedly behind. True love and enthusiasm for your product shines through. People can pick up if you are being "fake" in any way very quickly and I personally find it a huge turn off.
What do you think the absolute BEST part of being a Party Plan Consultant is?: You can do as much or as little with it as you want. The sky is the limit!
Anything else you want us to know?: As a pet lover since I was born (I have never lived with out a pet) I was over joyed at the prospect of being able to take what I really love (pets) and convert that in to a potential job. From the time you are small people tell you to find a job you love and it will not seem like work. I love all pets and I don't think anything about For Tails Only is work, it is helping the animals I love to have a better life.