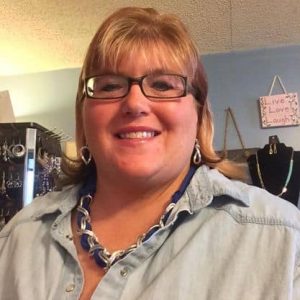 Full Name: Jody Huenke
Email Address: teamdivabling@gmail.com
Party Plan Company: Paparazzi
Your Website URL: paparazziaccessories.com/26969
How long have you been with your current Party Plan Company?: a little over 6 months
Is this your first Party Plan Company? If not, tell us about what else you have done?: Even though this is technically my first direct sales company. I have been in business for myself doing events and parties with my line of homemade jams!
What inspired you to get into the Home Party Plan Industry?: My husband and I have a 5 acre farm we are establishing and this is to supplement our income to help pay for the farm.
What kind of Corporate Jobs have you had? (or still currently have): I work at a local greenhouse full time on top of my party plan business.
What have been some of your major challenges with your Party Plan Company?: Home parties have been challenging for me. Not a lot of folks wanting to do the home party.
What have been some of your major successes with your Party Plan Company?: I ranked up to director in my first 30 days with Paparazzi and am 1 month away from our Crown 5.
Describe your typical day right now.: Get up at 5 am do work on my party plan business until about 630 get ready for work, work til 430 come home either do party plan or farm work til around midnight and then get up and do the same
Describe what the "perfect" day would look like for you.: Get up at 5am sit on my deck with a cup of coffee overlooking the farm. Work my farm all day and fit my party plan business in where needed.
On those "not so great" days, what is your motivation to keep going with your Party Plan Business?: Knowing it is paying for my truck! a 2003 Dodge Ram and helping support the farm
What is one piece of advice you would give a brand new Party Plan Consultant?: If you work it, it works! This is a job just like any other and you have to work it, it is not easy money.
What do you think the absolute BEST part of being a Party Plan Consultant is?: All of the networking and people I am meeting!
Anything else you want us to know?: I love running my own company and love networking!