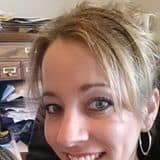 Full Name: Sara Clymer
Email Address: sclymer77@gmail.com
Party Plan Company: Hilltop Designs
Your Website URL: https://www.etsy.com/shop/HilltopDesignsHD
How long have you been with your current Party Plan Company?: 6 months
Is this your first Party Plan Company? If not, tell us about what else you have done?: I have been in mid to upper level tiers for a cosmetic/skin care company but was given the opportunity to help launch a home-based business created by a friend from college into the DS arena and I jumped at it!
What inspired you to get into the Home Party Plan Industry?: At first it was just for some "play" money but now it is my full time passion. My mom was diagnosed with cancer this fall so I left my job in the traditional workplace so I can drive 3 hours to her house every week to help with her care. That's my new "why"!
What kind of Corporate Jobs have you had? (or still currently have): I have a Masters in Gerontology and worked in Healthcare in Administration, Case Management, and Social Work for 14 years.
What have been some of your major challenges with your Party Plan Company?: Hilltop Designs as a company will be 2 in March but it just tipped its toes in the DS arena in the Summer of 2014 so we are still getting our name out there and sharing product. While most companies have large wharehouses/factories, Hilltop's products are made entirely in my friend's home and shipped from her living room to all our customers. We are growing small because we have to until we can secure some other space, debt-free hopefully!
What have been some of your major successes with your Party Plan Company?: About half of the company is part of my team so it is has been a blast sharing the opportunity with others for a truly unique product and company venture that Hilltop is in the DS/MLM world right now.
Describe your typical day right now.: Since my time is split between my home and my parents with caring for Mom, each day is different but I do my best to devote time daily to making connections, sharing my product, and if time permits, sharing the opportunity as well.
Describe what the "perfect" day would look like for you.: Every person I email, text, or PM would respond back to me! LOL! Even if it is a "no"- just don't leave me hanging!
On those "not so great" days, what is your motivation to keep going with your Party Plan Business?: We are all going to have bad days or off days and when my "to-do" list doesn't get completed, it just serves as fuel to me that much more efficient the following day.
What is one piece of advice you would give a brand new Party Plan Consultant?: Dream Big and work hard. Success won't happen overnight but success won't happen if you don't work at it either.
What do you think the absolute BEST part of being a Party Plan Consultant is?: Being able to set my schedule. I can choose to work when I want, know that if I'm at chemo with my Mom I can still make connections and then after I drive back, I can continue to work via a party or not.
Anything else you want us to know?: I'm married to my fantastic hubby for almost 15 years and we have 2 of the 4-legged kind of kiddos. I'm a recent transplant to the great state of Texas after being born, raised, and living in Chicagoland my whole life so "y'all" have to forgive this new Southerner if when I say that word I have one heck of an Elvis lip curl!