I think I have mentioned before my love for earrings. I seriously have dozens and dozens of pairs of earrings – I absolutely love them! So when I read that Independent eSBe Stylist Nelda Pacheco was sending me a new pair of earrings, I was ecstatic!
I have been a huge fan of the quality and uniqueness of eSBe Designs for years, so I was excited to see what was new. As usual, they did not disappoint.

For the last 15 years, artist Sara Blaine has translated her creative visions into jewelry through the hands of skilled artisans on the exotic island of Bali.
Her designs are as unique as they are beautiful, and the quality of each eSBe Designs piece is hard to match.
I have had some eSBe Design pieces for years – and they are still just as brilliant and beautiful as the day I purchased them.
Independent eSBe Designs Stylist Nelda Pacheco sent me these beautiful Baroque Threader Earrings for inclusion in the 2015 Diva Holiday Gift Guide.
I wish my pictures did them justice – they are absolutely stunning. The silver shell pearl threader earrings hang to 2 inches, with sterling silver chain and post.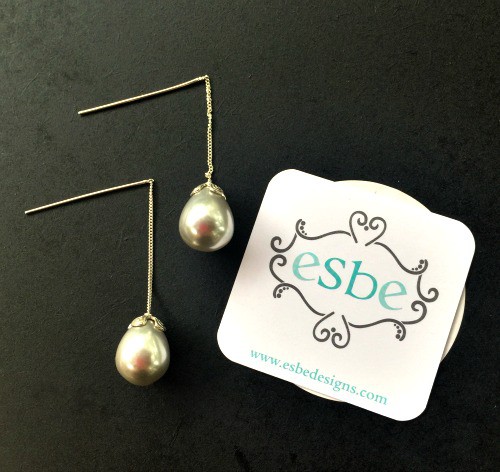 The eSBe Baroque Threader Earrings are a great statement piece – which can easily be dressed up with your favorite little black dress, or pair perfectly with your favorite pair of bluejeans.
They "thread" right through your earlobes and hang delicately but securely. I love not having to fool with trying to put on tiny little earring backs!
These are unique and elegant – just exactly what eSBe Designs is known for.
eSBe Designs is where "social selling meets boutique." As an eSBe DesignsStylist you can build your business in your own way, on your own terms.
Their hybrid direct sales model brings together the benefits of direct sales and a brick and mortar store.
You can offer Styling Events for Hostesses, sell online, or sell direct – however you want to run your business.