We all have moments in our life that stand out. May it be the day you graduated, the day you bought your first home, the day you met your true love, the day you became a parent.
Initial Outfitters is all about celebrating those moments in unique, personalized jewelry – perfect for everyone on your holiday shopping list.
Whether you are commemorating a date, a person, or one of those moments in life – Initial Outfitters has a beautiful gift just for you.

Since 2006 Initial Outfitters has been offering beautiful, personalized products to celebrate life's moments.
Their extensive line of unique, personalizable products are perfect for everyone – young and old. From their antique style jewelry to their super chic handbags, Initial Outfitters has something for everyone.
They also have products for your home, kitchen, phone covers, and more.
Independent Initial Outfitters Consultant Lynette Jeffres sent me a beautiful pink Silverplate Pink Bracelet to help me celebrate one of the special dates in my life… the day I met Mike.
Instead of just a normal date, we used beautifully inscribed Roman Numerals for the date – which I thought was such an amazing touch.
Every time I wear it people try to read it, and I get to explain its significance and how important II.XX.MMIX is to me!
The Silverplate Bracelet comes in several different colors to match your perfect wardrobe. It features a beautiful toggle closure to fit up to an 8″ wrist.
You can personalize your bracelet with a name, date, initials – whatever you want to make it yours!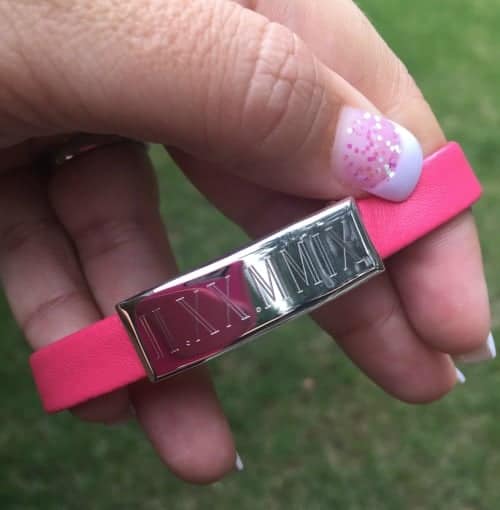 You can host your own Initial Outfitters party to earn free and exclusive products just for you!
As an Initial Outfitters Consultant you can build a business helping others design beautiful pieces for themselves and their loved ones that celebrate the most important things in our lives!