When I chose to change my life a year ago and focus on getting healthy, I knew my biggest obstacle was going to be food. I was on a first name basis with no less than 20 waitresses in town and joked with my friends that I helped to keep the lights on in our local Mexican restaurant.
Cooking was not my strong suit. But I knew that in order to get healthy I had to get a handle on my eating – and sometimes that meant packing a lunch – just like I did back in school.
When I opened the box from Independent Initial Outfitters Consultant Mary Varnell, I was so excited to see what was inside. Mary sent me my very own "grown up" lunch bag – in hot pink!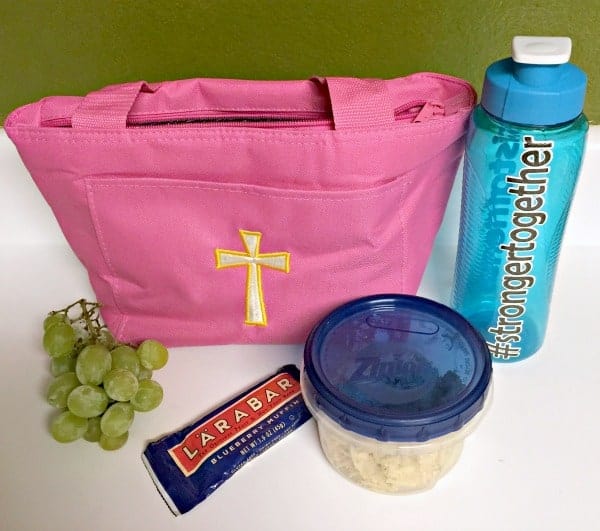 The Hot Pink Charlie's Lunchbox is perfect for all ages. It has a zippered top with a pocket on the front that can be monogrammed!
The inside is insulated to keep things warm or cold – but what impressed me the most is that even though it is a little bit smaller than other insulated totes I have had, it still holds just as much.
I have loved taking along my own chicken salad, grapes and Larabars when I needed a quick lunch to go.
Even my water bottle fit inside! But this bag isn't just a lunchbox – you can carry makeup, snacks, electronics – even gardening gifts!
The Charlies Lunchbox comes in several different colors and can be embroidered with a name, initials, or icon.
Mary chose a beautiful little cross for mine – and it was perfect.
But Charlie's Lunchbox is more than just an insulated bag – its a movement. Initial Outfitters believes that we have been blessed so that we can bless others!
With that in mind, Initial Outfitters has partnered with "Charlie's Lunch" to help in their mission of goodwill, fellowship, and feeding. Through lunch money collections, and the sale of Charlie's Lunchboxes and Charlie's Lunch Cookbooks, Initial Outfitters now fully sponsors 17 lunchrooms and the Charlie's Lunch Orphanage each year!
Located in Mexico, Honduras, Guatemala, Zambia, and India these lunchrooms provide hot lunches, bible study, and love for 1,100 children! But this is not just a charity that IO send money to!
IO Founders Alicia and Jim Storbeck have personally visited and spent time in the Charlie's Lunchrooms, giving out hugs, lots of love, leading evangelism activities, and getting to know the communities. These children and their families are counted among the poorest of the poor.
But as a part of this ministry, they are made to feel rich as they are fed physically and spiritually, and are ministered to on a regular and personal basis. 
Each Charlie's Lunchbox sold feeds a child in another country 3 hot meals each week for a month! How amazing is that!?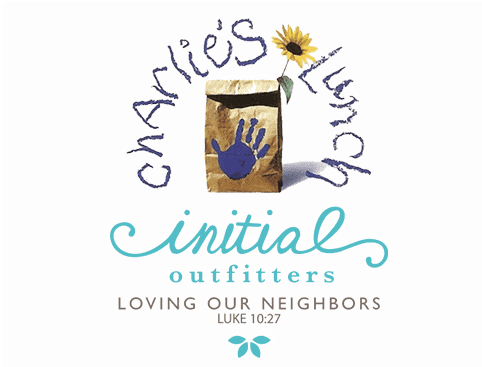 Initial Outfitters has an extensive line of products that you can personalize to make your very own. From jewelry to household goods and even apparel, Initial Outfitters has something for everyone!
Whether you are starting to make your shopping list for the holidays or looking for something all your own, you are sure to find the perfect gift.