Initial Outfitters was a company born out of the desire to make a difference in lives and provide the flexibility for one to not only find success in business but to also be creative and grow as a person.
Founders Alicia and Jim Storbeck knew that from their experience with corporate careers that they needed to leave that life behind and really make that desire and dream a reality.
Launched in 2006, that dream became just that reality and Initial Outfitters was a fresh new company that allowed for all of those desires and dreams and more.

Initial Outfitters is sold by Independent Consultants like Lynette Jeffres through direct sales at home parties or one on one sales with customers all over the country.
When you host your own Initial Outfitters Home Party you are not only supporting a local business owner but you are providing the opportunity for a unique boutique style shopping experience for your friends not to mention all the wonderful free and discounted products you earn based on total guests sales and guests bookings.
Initial Outfitters has a wonderful range of products and personalization options available to customers and hosts.
From classic sterling silver jewelry pieces to apparel, home decor and accessories, Initial Outfitters truly has something for everyone.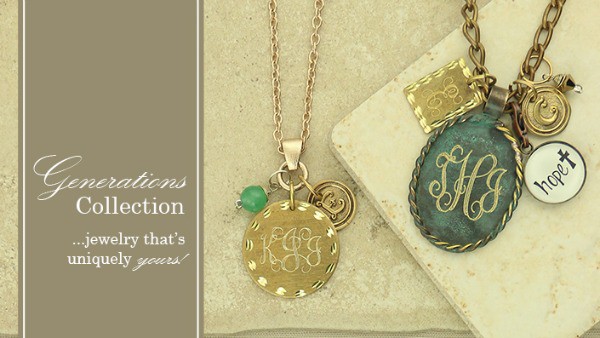 Lynette sent me a beautiful personalized piece for inclusion in the Christmas in July 2014 Event here at Party Plan Divas.  
I absolutely fell in love immediately upon opening my package.  The "Refuse to Sink" acrylic pendant necklace was personalized especially for me.
The pendant measures approximately 1.5" and you can specify when you order what color chain and length you prefer. This has become a nearly daily worn piece and even when I'm not wearing it it makes me smile.  
It means alot to me because there have been times in my past where I thought I was going to drown in life, so it's almost like an immediate mental kick to say "NO, you will NOT let this sink you" and the thought of this piece empowers me to keep on moving through my day.
Even more special – its has my initials "to be" – Mike has certainly been my anchor and my strength many times over the last few years, so it is only fitting that is has his name.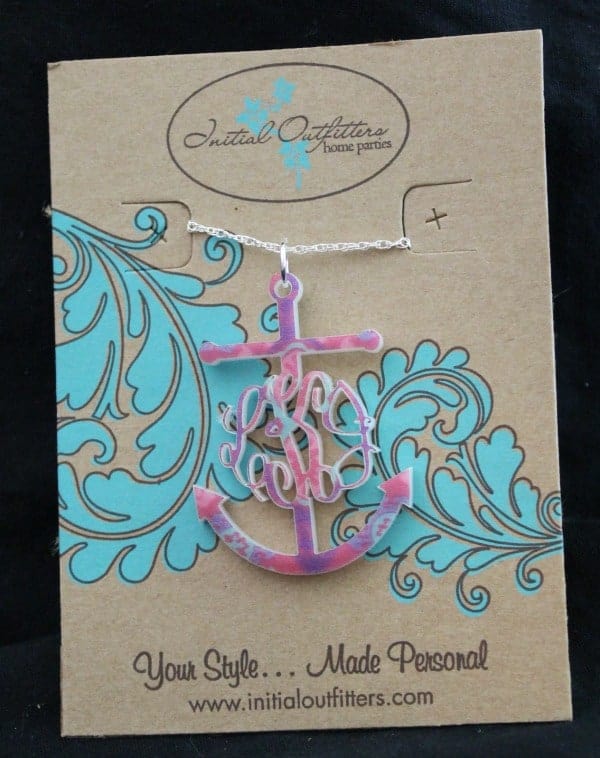 If you are wanting to find a gift for that special person in your life, be it your mom, your sister or your best friend, Initial Outfitters has something perfect.  
 I love the personalized cutting boards, the cell phone cases, and even the personalized baby/children options like baby bibs and blankets and backpacks.
Becoming an Independent Initial Outfitters Consultant is a way to provide financially for your family or self as well as the opportunity to grow personally and professionally with the training and connection with other consultants.
The ability to define your success by choosing your working hours and your initial business investment costs you can work and build your business in your terms.
Initial Outfitters offers a competitive direct sales compensation plan for personal sales as well as bonuses for sponsoring others into the business and supporting your team.
You truly have the ability to take control of your financial success and empower others to do the same.