For more than 50 years, JAFRA Cosmetics has been providing not only innovative and quality skin care products but also exceptional career and income opportunities to women.
There are more than 60,000 Independent Beauty Consultants in the United States however JAFRA Cosmetics Beauty Consultants can also be found throughout South America, Europe and Asia.
JAFRA Cosmetics offers a diverse product line which includes health and wellness products for babies, teens, men and women as well as beauty products in the JAFRA Color collection for your eyes, cheeks, lips, nails and more.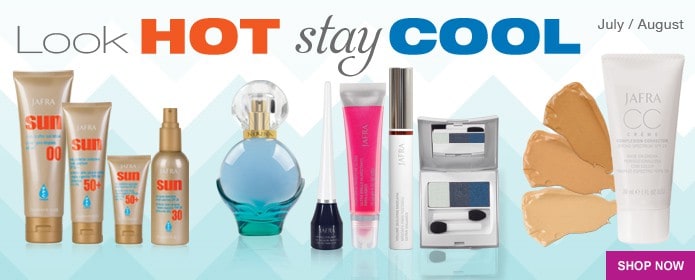 Independent JAFRA Consultant Lisa Washington sent me the Ginger and Sea Salt Body Rub and Soothing Mineral Bath Salts for review and inclusion in the 2014 Christmas in July event here at Party Plan Divas.  
The Ginger & Sea Salt Body rub is part of the JAFRA Spa collection and is made with a blend of sea salts and emollient rich Ginger Root extract.  You can use this wonderful exfoliating scrub on your entire body in the shower or bath to be left with perfectly smooth and glowing skin.  
The blend of Ginger not only is pleasant to your sense of smell but also energizes your spirits when combined with the gently scrubbing properties of the sea salt.  
When using you want to avoid shaving prior and wet the skin then apply with your fingers or a small spoon a scoop into your hand then massage into your skin in a circular motion with your hands or a loofah.  
Once you've gently scrubbed you can easily rinse away with water and then enjoy the radiant skin you are left with.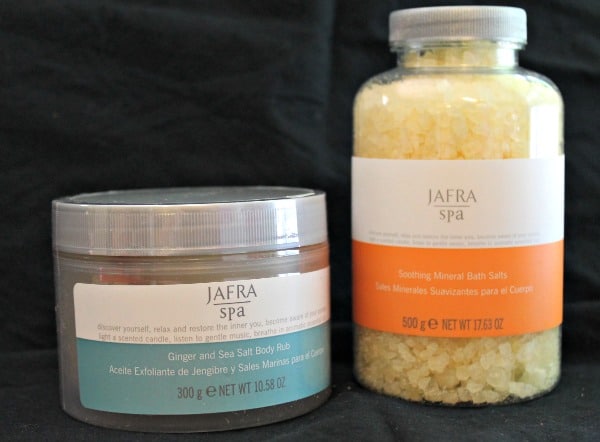 The Soothing Mineral Bath Salts is an amazing blend of ginger and eucalyptus which is sure to lift your spirits and invigorate your skin.  
Soothe not only your body but also your mind when you pour a handful or so of this blend into your warm running bathtub and swirl with your hand or foot until completely dissolved in the water.
Immerse yourself and close your eyes and let the scent and sensation take your stress away.  
Also great for soaking tired feet after a long day walking or standing, excellent for public speakers, nurses, teachers and more because you can use a capful in warm water in a portable tub or foot soaking pan and allow the blend of ginger and eucalyptus invigorate and replenish tired and aching feet. (or if you are a little bit crazy and have taken up CrossFit as a new hobby like your truly – its great for a recovery soak!)
JAFRA Cosmetics provides a generous Hostess Rewards plan rewarding hosts of home party experiences with free products, special Hostess Product bundles and booking offers.  
When you become a JAFRA Cosmetics Independent Beauty Consultant you are joining a company that abides by the DSA Code of Ethics and with a minimal investment to begin your business you receive training, sales and website support, full size products for display/sampling at parties as well as marketing literature needed to begin a successful career with JAFRA.  
Whether you are looking for full time compensation or just want to have the ability to enhance your existing income, JAFRA Cosmetics works for you!