If you could immediately erase years of aging from your face – would you do it? Of course – we all would! That is what Jeunesse Instantly Ageless is all about! Instantly Ageless™ is a powerful anti-wrinkle microcream that works quickly and effectively to diminish the visible signs of aging.
Instantly Ageless™ revives the skin and minimizes the appearance of fine lines and pores for a flawless finish. But Jeunesse Instantly Ageless is only one product that they offer!
Jeunesse combines breakthrough sciences in a product system that enhances youth by working at the cellular level.
By focusing on the health, longevity, and renewal of cells, we help people enjoy vibrant, youthful results that last.

Independent Jeunesse Presenter Terri Essert sent me some Jeunesse Instantly Ageless to try. I was most impressed with how a little goes a long – long way!
To apply you simply pat on just a tiny bit onto the target areas – which for me was under my eyes – and let dry. You will literally feel your skin tightening as it works! So cool!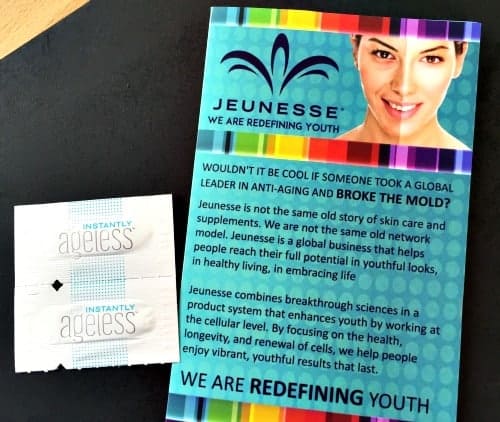 The Jeunesse Youth Enhancement System (Y.E.S.) isn't just about looking young. It's about feeling young for the long term. Even the sciences they employ are new and cutting edge.
Their best-of-the-best formulas are innovative, and the youthful results are real.
 They offer an impressive line of Personal Care and Nutrition Items to make you feel and look your best every single day.
As a Jeunesse Presenter you can open up "a world of opportunity" with your Jeunesse Business which allows you to network across countries and continents with their global platform.
Jeunesse is available in 85 nations and counting – and you can take advantage of them all!