If there was one business tool that I would say I absolutely "can not do business without" (My Diva Success System Planner not included) it would be my Mobile Office.
I do not go ANYWHERE without my Mobile Office! It is either in my office or in my car, and I even take it into all of my parties! If you need to get organized – and fast – set up a Mobile Office! You will wonder how you ever did business without it!
Keeping a Mobile Office is critical to the success and organization of your Party Plan Business. In this Office, you will keep everything you need to book parties, make contacts, recruit, etc.
Do not over think this – you want this to be easy, organized, and portable. If you fill it too full, you will never carry it around.
Your Mobile Office can be carried in a portable file box that can be purchased from any office supply store.
Many have a place for pens and accessories right in the top! That is very convenient so you are never searching for a pen.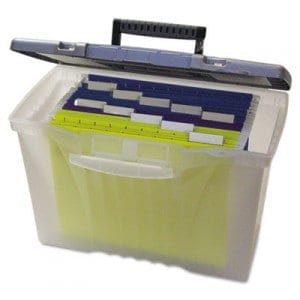 You will need the following:
File Box
Hanging File Folders
1/3 Cut File Folders
Pens, Highlighters, Markers
Hostess Packets (see Hostess Coaching Section)
Recruit Packets
Tear Tab Flyers
Business Cards
Catalogs
Order Form
Calculator
Samples, Gardening Materials
Make sure that everything in your Mobile Office has your name on it – you never know when you will quickly need to grab a catalog to give to a waitress or someone in a parking lot who sees your car signs.
Having it readily available, with your information, and in good shape (no tattered edges or creases) is another way to make a great first impression.
Remember, marketing opportunities present themselves when you least expect it. When you are organized and prepared, you will not panic when the opportunity arises. Be sure to keep your Mobile Office stocked and ready at all times!