Every Mom, wife or significant other deserves to be pampered.   Mom is a busy lady and will probably put herself last in all situations. Pamper the Mom in your life this Mother's Day by giving her the gift of beautiful, healthy skin with L'BRI PURE n' NATURAL!!
L'BRI's products are simple to use and won't take up hours of her time and leave her with skin she will love.
I was first introduced to L'BRI PURE n' NATURAL 4 ½ years ago. I have very sensitive skin and am very limited in products I can use on my face.
While the products I had been using at the time were great products, they were not affordable, so I was in search of a product I could not only use, but could also afford.
In addition, I was on a mission to remove chemicals from my life, both in what I put on my plate as well as use to clean my house and put on my skin. I stumbled upon L'BRI at a craft fair.
They had one of the longest lines, so I knew right away that I wanted to be in that line also. I spoke with the consultant and learned that not only was
L'BRI chemical free, but the first ingredient was Aloe Vera instead of water!!
Still skeptical, I decided to purchase their travel-size set for $6.75, a 1-week supply of their 7 more popular products – kind of like "try before you buy".
I had invested in so many products in the past and wound up out the money as I either threw away or gave away products I could not use, so this concept really appealed to me.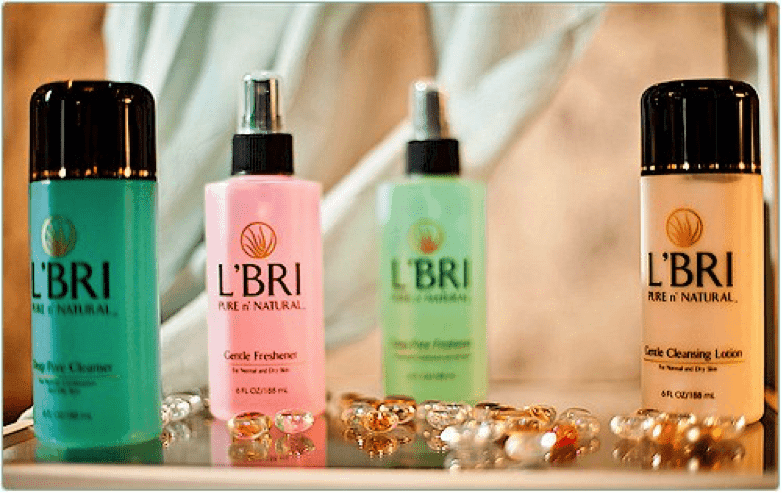 Excited at the thought of a new, affordable skincare product, I went home and gave the products a try. WOW is all I could say!!!! NO reaction!!!
My skin NEVER felt SO good – ever in my life!!!
I spent probably the next hour in awe at how light-weight my skin felt and kept running my hand over my cheeks because they were SO soft – YES after only 1 use!!! I was hooked.
I ordered the basic trio as well as a few other products – I had just found the most perfect skin care products!!!!
L'BRI was founded in 1998 by Brian and Linda Kaminski. They started this business from the ground up out of their home in Mukwonago, WI.
The concept of skin care products based on the Aloe Vera Barbadensis plant was born from a severe burn accident suffered by co-owner Brian Kaminski. 
Brian and his wife Linda (hence L'BRI) were given an aloe plant from a friend to help Brian's severe burns heal. 
Amazed by the results they set forth on a mission – the results L'BRI PURE n' NATURAL!!
In addition to Aloe as the first ingredient, L'BRI products are formulated by using herbs, vitamins, natural botanicals, fruit and plant essences and safe, food-grade preservatives.
L'BRI is so proud of the ingredients that they use, they post the ingredients right on each and every consultant's web page.
L'BRI is good for all ages and all skin types, even the most sensitive.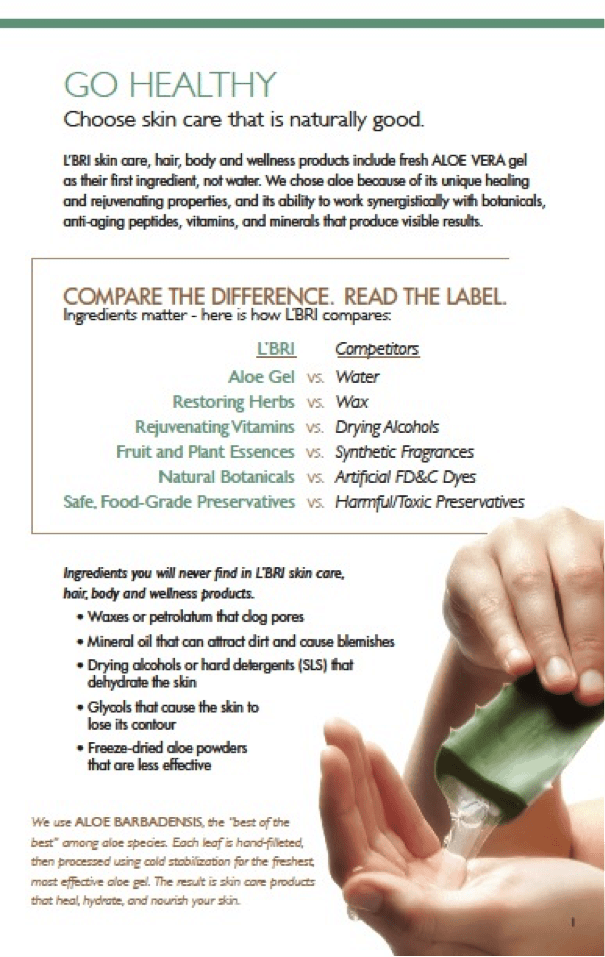 L'BRI still offers a "try before you buy". To take advantage of this visit my website and click on the FREE SAMPLES link.
For just the cost of $6.75 shipping, a 1-week supply of L'BRI products will be shipped customized to the skin type selected. Does the Mom in your life love to travel or go to the gym?
This free sample set is refillable and the perfect size to throw in her luggage or gym bag too!!!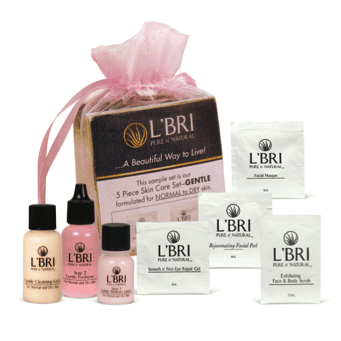 L'BRI's trio covers the basics in skin care. At the very least this 3-step process should be followed. First cleanse the skin to remove the dirt and impurities.
Next use the freshener to restore the skin's normal pH balance – no worries, L'BRI doesn't add drying alcohols or acetone to our fresheners!!!
And finally moisturize, keeping the skin hydrated!!!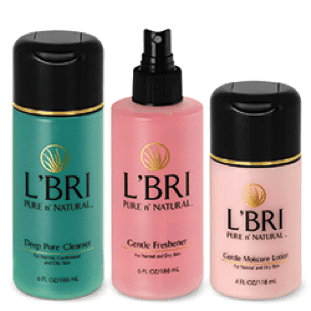 While L'BRI has many other wonderful products to compliment the basic trio, if I had to recommend one additional to add to it, I would add our Facial Masque – our "Facelift in a Bottle".
I always have guests at my home shows take a selfie both before and after testing this product out.
They are amazed at the results they see with just one use!!!
The Facial Masque works the muscles in your face, toning and lifting, as well as minimizing the size of large pores, cleaning out blackheads and just making the skin feels "Oh So Wonderful"!!!
In addition, dab on a new blemish at night, leaving it on until morning and the blemish will be gone or nearly gone in the morning. This product should be used twice weekly.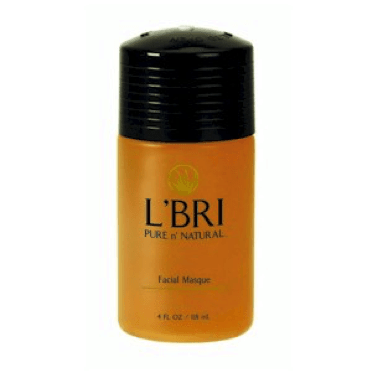 To learn more, visit my website, www.myskincare.lbri.com.