L'Bri Pure n' Natural provides consumers with natural aloe vera based health & wellness, skin, hair and body care lines of products.   Founded in 1998 by Linda and Brian Kaminski.  
Based in Wisconsin L'Bri has now become a national leader in providing aloe-based skin care, nutritional and beauty products using Independent Consultants across the country.  
L'bri was born out of a terrible accident with Brian as his former job and their experience using natural aloe to tend to his extreme burn wounds.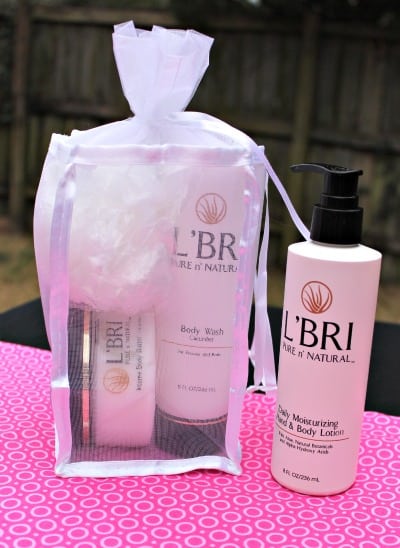 Today Customers and Hosts can purchase products through an Independent Consultant like Chris Baker who provided this wonderful gift set for the 2014 Mothers Day Gift Guide, containing L'Bri Pure n' Natural Body Wash, Intense Body Butter, Daily Moisturizing Hand & Body lotion as well as a shower poof all in a great drawstring bag.  
 It is an EXCELLENT pampering gift for any mom, sister, best friend or for yourself!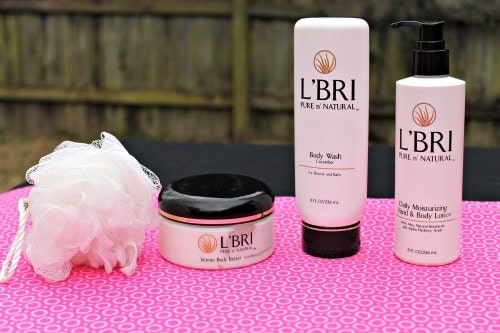 I wash my hands quite often through the day between restroom trips and preparing meals and snacks for my family and even with my large intake of water daily I still can suffer from dry hands, I LOVE using the Daily Moisturizing Hand & Body Lotion and I keep it right on top of my desk most of the time because I can use it while I'm working and it doesn't leave me with a greasy feeling.   
The light cucumber scent also isn't overwhelming which also helps.
I discovered that the body wash is excellent even for sensitive skin and babies and features the same soft cucumber scent as well.
 I really like being able to step out of the shower and then layer with the Intense Body Butter because the line carries the same soft cucumber scent across the product line.
  This is especially useful after the dry winters (even here in Florida the winter can be harsh to your skin) and after a dip in the pool in the summer to restore the vitamins and moisture that is lost due to pool chemicals or the salt water of a trip to the beach.