Like many women I know, I have always had a love/hate relationship with my hair. When I was about two years old, I was obsessed with my "sunshine hair", named for the way my natural curls framed my face.
My mother was just beginning her career as a prosecutor at the time, and she was happy with this low-maintenance style as long as I was happy too and we were out the door to work and preschool on time.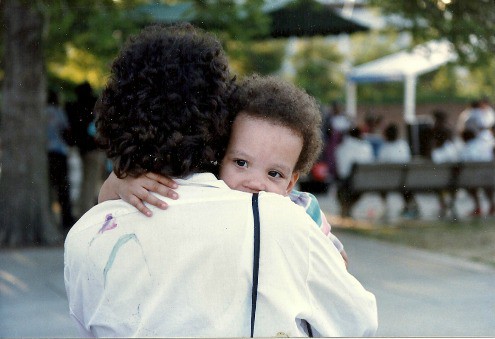 Later when I was about five, I started cutting my own bangs and things went steadily downhill for a few years. In middle school, the curls turned to frizz and stuck straight up no matter what my mom and I tried.
Traditional plastic bobby pins would only hold for a few hours before the slipped or fell out. Ponytail holders had to be wrapped so tightly around my hair that they damaged my hair, caused tremendous pain and triggered migraine headaches.
Salon treatments were usually too time-and labor-intensive and costly for a single mother of three on a tight schedule and tighter budget. Eventually I learned some discipline in my hair care routine and found a low-maintenance style that I loved, but there were some awkward days in between.
If Lilla Rose products had existed when I was a teenager, they would have spared my mother and me so much irritation and heartache!
Now that I am an adult with my own career, I have a much greater appreciation for every effort my mother made to help me with my hair while she was also rushing to get herself ready for work.
Lilla Rose Flexi-Clips make hairstyling so simple. The best part about these accessories is that no special skills are required to use them.
It only takes a few seconds to pull my hair up or back before I am ready to walk out the door for the day.
My go-to style is usually a half-up, but for special occasions I can spend a few minutes to pull my hair into a classic style that looks like it took hours of standing in front of a mirror or sitting in a stylist's chair to put together.
The Flexi-Clip is made of flexible music wire that bends around your hair and is held in place with the notched sliding bar on the back. The bar is attached, so it cannot be separated from the rest of the clip and rendered useless.
Once the clip is secured, it will stay where you put it all day. The Flexi-Clip comes in seven sizes designed to accommodate every hair type and style, and with prices starting at just $9 there is something to fit every styling need, taste and budget.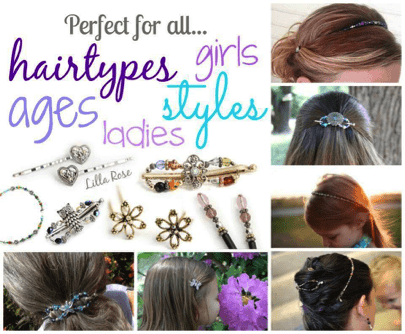 After the Flexi-Clip, my favorite Lilla Rose accessory is our hairband. The hairband was recently restyled and the newest version was just released online today.
The beaded strands are longer, and each hairband now comes with the colored band of your choice to complement your hair color.
You can attach up to three hairbands to the same strap to mix and match your favorite styles!
Each month, Lilla Rose releases a special, limited edition "Flexi of the Month" with a coordinating accessory.
The May 2015 clip and You-Pins was released a few days early, and will be available online while supplies last.

Along with the May Flexi of the Month, Lilla Rose also introduced a new clip into the permanent line.
Elegant Flower has the same centerpiece as our matching bobby pins, and the two would make a unique and lovely set for an upcoming special occasion or Mother's Day gift.
If you need help finding your perfect Flexi size, you can see the sizing and styling video on my website here.
To place an order, shop through my open party link at www.lillarose.biz/parties/9025. Orders placed through this link will help my current party hostess reach her goal.
She and I both appreciate it very much! NEW customers who have never shopped with another consultant before can also take advantage of my buy three get one free special!
Send me an email after you place your order to take advantage of this offer. If you have any questions or need help with your order, I can be reached by email at LRSouthernSparkle@gmail.com or by phone at (662) 469-6094.