I received a beautiful piece of home decor from Mary & Martha Independent Consultant Jerri Sargent.  I was excited to have Jerri with Mary & Martha participate in this years Christmas in July event here at Party Plan Divas because I have loved every product I have seen from their product line.
Independent Mary & Martha Consultant Jerri Sargent sent me a piece which immediately put a smile on my face when I got the box open.
I received the Mary & Martha Small Glass Lantern, which the name just doesn't do this beautiful piece justice. The Lantern is a hand blown glass piece and measures approximately 8" tall.
There is a small metal tag that reads "Our days are for His praise" that hangs from cord around the top rim.
The candle holder is a metal piece that sits down inside the lantern and hangs from the rim of the piece.  You can use this lantern with or without the candle insert and I've tried it both ways and cannot decide which I love the most.
I love the more elegant feel of the metal insert as much as I like how casual the piece is without it.  I also love that you can place things inside such as beautiful stones or even sand and shells in the bottom under the metal candle insert as an accent for your decor.  
 The Mary & Martha Small Glass lantern has found a home in my living room decor with a beautiful burgundy candle that I already had and it fits so well with my other decor pieces.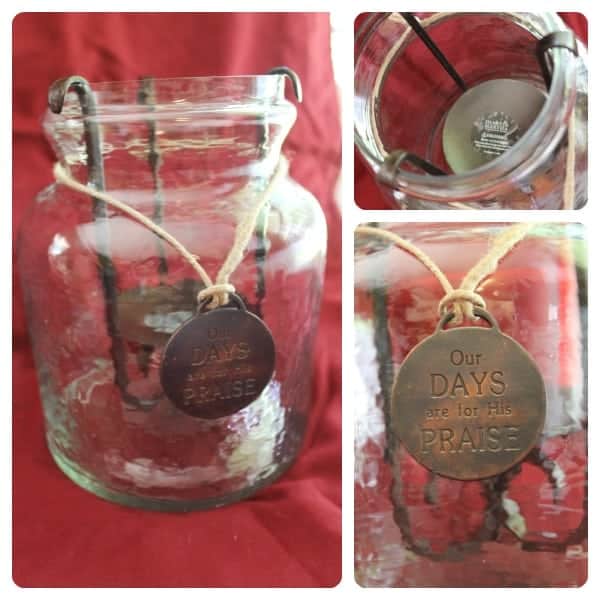 Mary & Martha was founded in 2006 by Dayspring Inc., which is the worlds leading producer of Christian greeting cards and gifts.
For more than 40 Years DaySpring has offered their products in partnership with various Christian storefronts.
Mary & Martha is keeping that momentum going by offering faith based merchandise in a direct sales environment.
Mary & Martha doesn't just carry home decor, but a wonderful line of jewelry and other giftable items, including a kids line.
With a competitive hostess plan, Mary & Martha consultants are able to help Hosts to earn free and half priced items of their choice based on guests sales and bookings.
 Mary & Martha Independent Consultants allow women to have the opportunity to combine their faith with their business and be rewarded with a competitive compensation plan that includes sales commissions, incentive trips and product earnings as well as the flexibility to work when and how they want by offering the exclusive Mary & Martha product line.