Ever wished you could have the hands of the models in jewelry store commercials?   Lets face it, thats not the norm.  Many women (and men) suffer from dry hands whether because of constant hand washing, household chores like the dishes and cleaning or even just because of the climate where we live.
This is where Satin Hands system from Mary Kay can transform your hands with a simple 3 step routine that you can do daily, monthly or anywhere in between.  
This simple system involves 3 products that come packed together in a gift ready bag (so it's perfect to give to that special teen, sister or even man in your life) right away.    
Your first step is to  use the Hand Softener to provide hydration and seal it in so your hands feel silky and supple and you are ready for Step 2.  For Step 2 you will apply the Smoothie Hand Scrub, this cleanses and exfoliates at the same time and it feels amazing.   
Once you rinse your hands and dry them you can complete your experience by using the Satin Hands Hand Cream (enriched with Vitamin E) which provides 24 hours of moisturizing and even lasts through several hand washings!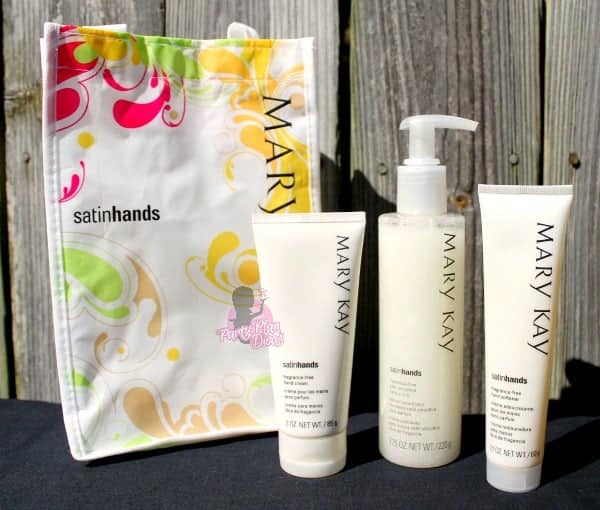 The best part is, it's not just for your hands, being a Florida girl and spending most of my time on the beach or in the backyard this is a great way to also pamper my feet after time in the pool or the salty water from the beach.
Mary Kay Satin Hands is dermatologist tested and unscented so it's also great for those with skin allergies or sensitive skin.
Mary Kay has been in business for 50 Years, founded by Mary Kay Ash with a mission to enrich women's lives and to give them the opportunity to experience success on their own terms.  
Their philosophy is pretty simple, they have a passion to develop and provide products that encourages women to find their true beauty inside and out and stand behind every product and the benefits they can provide.
 Mary Kay is the 9th best selling skin care company in the word with more than 2.4 million Independent Beauty Consultants worldwide.  They are in more than 35 markets globally and support various charitable efforts as well.
To learn more about the Mary Kay opportunity or to purchase products check out Independent Mary Kay Consultant Felicia Scott's website and be sure to also Like her on Facebook!