After a long day there is something to be said about the comfort of a home cooked meal to make things all better. Sometimes though we just don't have the time for a drawn out home cooked meal like mom used to make when we were sick or had a bad day at  school. Thankfully this is where Independent Tastefully Simple Consultant Carrie Hurley can fill in the gap!
The "Serve It Up" gift set makes a great gift for a new couple, a new mom or even just for your best friend.  
What I loved about this box set was first the excellent packaging, it looks professional and is ready to be gifted as is with no extra effort on my part (save for maybe placing a bow and a card on it).
But my amazement didn't stop there,  when I opened the box I was pleased to find a beautiful Artisan-inspired ceramic baker.
This baker measures approximately 10"x16" and I found is a perfect option for not only serving up pasta dishes to my family but also for just about anything I need a casserole style dish for.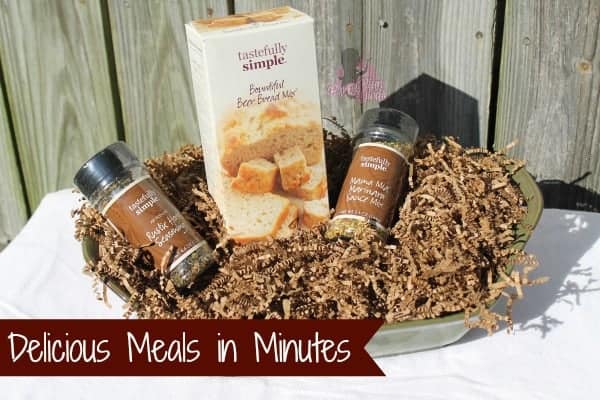 I'm not a beer drinker, but I LOVE the flavor of the Bountiful Beer Bread mix.
You simply add one 12 oz. beer (or any carbonated beverage like flavored soda etc) to the dry mix and stir just a few times to mix.  Place the dough into a baking dish and it's ready to go in the oven with no kneading or rising time necessary.   
It is perfect paired with a pasta entree for dinner or just for snacking with your favorite dipping sauce.
I also received the Mama Mia Marinara Sauce mix and the Rustic Herb Seasoning in the gift box and these helped me create an amazing meal quickly and easily.  
I used the Rustic Herb seasoning to season my ground beef for my pasta dish and the Mama Mia Marinara Sauce to season a can of crushed tomatoes for a sauce.   
The Mama Mia Marinara Sauce mix is made with authentic Italian spices even!
I would say this is about as close to the Old World as you can get in your own kitchen and with limited ingredients and short prep time it is the perfect solution to providing home cooked comfort food for your family with limited time in the kitchen.
Tastefully Simple is based in Minnesota and offers a selection of convenient and easy to prepare foods that are designed with spending less time in the kitchen and more time enjoying your family in mind.
Since it's beginning in 1995, the company has become a $100 million plus enterprise with thousands of active consultants making the products available to consumers, usually at home taste-testing parties nationwide.
 In 2005 Tastefully Simple was inducted into the Inc. 500 Hall of Fame because of their company's growth.