Every year I choose a word or a "theme" that I focus on all year long. It helps to keep me motivated and inspired and on a forward path with my business… even on days that I am feeling less than enthusiastic.
In the past, I have had words like Completion, Focus, and Good – all of which have been great words, and I have really strengthened my skills with each one.
These little one word mantras have made a huge impact on my business and my home life.
By having a one-word theme I have been able to have something to focus on to make sure I was always moving forward.
A few weeks ago when I spent the weekend at the TypeA Conference in Orlando I realized that I know much more than I actually thought I did – which was both a good thing and a bad thing.
When you go to a conference wanting to learn – and then realize you probably could have been one of the ones teaching – it makes you take a look at yourself and ask: If you know all of these things… why are you not doing them?
The truth is I am… and I have… just not with CONSISTENCY.

Consistency is hard – it requires a strong level of commitment that I believe few people have. It requires a drive to continue long after the initial desire to begin has passed.
We are all great at beginning – it is the follow through and completion (yep, there is another one of my words) are what we struggle with.
However, what we also know is that we are habit-driven creatures and that it is what we do every single day that makes the difference between success and failure.
Robert Collier said, "Success is the sum of small efforts, repeated day in and day out." 
This is one of my most favorite quotes, and one I have used often in my coaching, but as I take a closer look at my business and goals, even though I have been present and worked hard on them… it has not been with the level of consistency that I believe is required to truly achieve long lasting success.
So even though we are still 5 weeks away from 2017, I have already chosen my Word for 2017, and have begun actively working on it.
Why wait until the calendar changes to start implementing practices that I know will take me to the next level in business?
And actually, this word works well with every aspect of my life – not just business. I created this image, set it as the wallpaper on my iMac, and printed a copy to hang near my desk as well.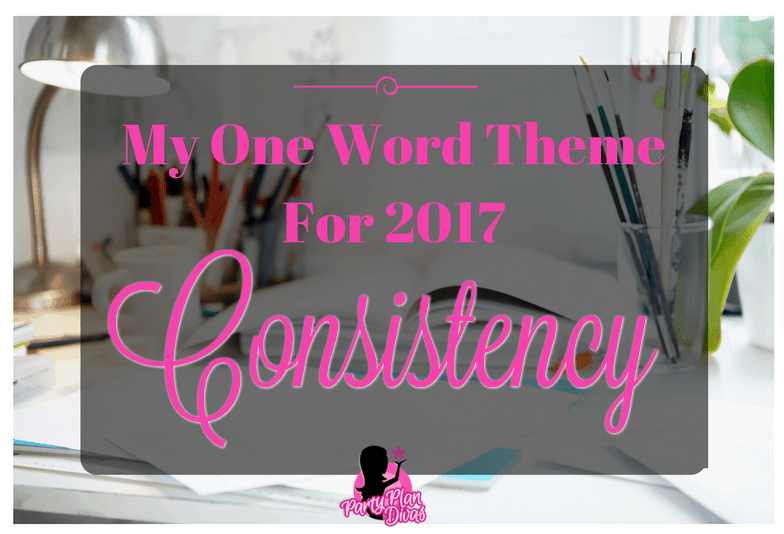 I am excited about 2017 and looking forward to creating new, consistent habits that move my business and my life forward in big ways. I want to encourage you to also choose a word that resonates with you to focus on this year and share it with us in our Facebook Community.
You can also use the image below to create your own image to use. Simply right-click and save as – and then either write or type in what your word is for the New Year. (I used PicMonkey to put my word in!)
You can use this image anywhere – or print it out to hang in your office like I have. Let's start today to make make 2017 our absolute best year yet!

Take A Closer Look At PartyPlanDivas
PartyPlanDivas is the largest Online Training Community for Direct Sales Professionals. For over ten years PartyPlanDivas has been a trusted community for training and support in every aspect of the direct sales industry. With a firm foundation of Time Management and Organization, the Diva Success System has helped tens of thousands of Direct Sales Consultants worldwide to be more successful, less stressed, and have time for what matters most – our loved ones.
Join Our Free Community
Join thousands of "Divas" from all over the world to learn business building ideas, gain support, ask questions, and more! With PartyPlanDivas you'll become better organized, less stressed, and more successful with your Direct Sales Business.