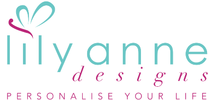 A social selling company with a focus on women and their unique ability to connect also has a unique product. The first of it's kind in Australia, Lily Anne Design's key product is a glass locket which holds charms that the consumer gets to individually choose.
The way it works, each woman chooses her locket and then chooses the charms that are unique to her.
She even gets to choose the style chain to go with her locket. It's 100% personalised.
Haupt says, "We all have moments in our lives that are unique and special to us. It might be the moment we first held our child or the moment we met the love of our life.
These charms represent the things in our lives that say ʻthis is what I love, who I am and who I hope to be."

The business model is that of social selling. "I have spent the last 4 years in the United States and it's apparent there needs to be more social selling companies in Australia that are fresh and vibrant.
I'm excited about what the women of Australia can create with this business model and these products. The future looks bright."
There will be a launch party and an unveiling of the products, a chance for women to get their hands on their very own locket.
It will be held at Royal Pines Resort on the 13th April, 2013 at 6pm. This is a limited space event and those wanting to attend must RSVP.

This launch signifies just the beginning of what is next for this company who already has women nationwide who are eager to resell this unique personalised jewellery.
The company calls their resellers "Design Consultants". "We have established a business model that gives woman in Australia the chance to operate their own business.
With the way we connect in the world now, with social media, it's so much easier for people to do business.
With the right systems and a unique product everyone loves, it's a piece of cake." says Haupt.
It's not just through social media that women can sell this unique new product. There seems to be a resurgence of the "in house party". Lily Anne Designs refers to their home parties as "Jewellery Bars".
"This (Jewellery Bars) is the best way for a Design Consultant to be successful. It's the experience of this product that causes women to make it a ʻI gotta have it' item." Haupt explains.
For the launch on the Gold Coast, there will be multiple "Jewellery Bars" set up so women can create their own personalised piece to take home with them.
This will be the first chance for women to see the product line in person. "We expect a huge turn out. It's going to be a great night." adds Haupt.
For those wanting to attend the launch party, you can RSVP at: http://www.lilyannedesigns.com.au/launch-party.html
For further information, contact Melissa Haupt: media@lilyannedesigns.com.au
{Press Release posted at request of company.  Party Plan Divas makes no claims or endorsements with this post}