Nom Nom Popcorn isn't your run of the mill microwave popcorn provider. Nom Nom Popcorn Company offers both casual popcorn lovers and Popcorn connoisseurs that will put them equally into a popcorn coma!
I love popcorn as a treat at the movies on a date with the hubby, but also as a snack at home because it's easy to make, easy to eat and I can eat it at my desk while I work.  
Boy was I in for a treat when I received a whole box of flavored popcorns from Independent Nom Nom Popcorn Consultant Chandra Wright.
Nom Nom Popcorn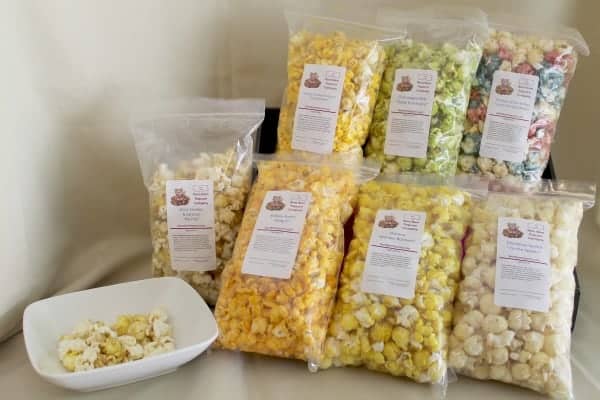 Chandra sent me so many flavors of Nom Nom Popcorn to try that I could not pick a favorite, I think the Diva Daughters may have tried to no avail as well to choose a favorite.
We loved every single one of them, and my assistant even couldn't pick a true favorite but from the looks of it the flavors that included the caramel flavor seemed to win out more often as those went fast.
I received all of the following great flavors to share with you for the 2014 Holiday Gift Guide.
The Monkey Business is a banana flavored popcorn that is sweet to the taste buds. Perhaps you have Champagne tastes, if so the Champagne Pear will tickle your taste buds with this fancy popcorn option featuring the perfect combination of champagne and pear. (I think that one was my favorite) 
The Orange Cheddar & Caramel is delicious too, this popcorn is a delicious mix of Cheddar Cheese and caramel covered popcorn for the perfect marriage of salty and sweet!
Meanwhile Christmas Vanilla, this "Tis the Season" popcorn is sugar corn that is complemented by vanilla butternut flavoring and is a festive red and green mix color, the Buffalo Ranch is made with real cheddar cheese and spicy buffalo seasoning mixed with a hint of ranch that you will not notice you aren't eating a real buffalo wing (except you won't have the messy fingers and a bowl of leftover bones), the super patriotic Red, White & Blue is the "You're the (WO)Man" popcorn and is a delicious mixture of blueberry, vanilla and raspberry flavored popcorns that is sure to give you super powers, or at least super happy taste buds.
The White Cheddar & Flip Flop this is very similar to the Orange Cheddar  & Caramel except it's made with White Cheddar Cheese blended with sweet caramel popcorn for yet another delicious combination.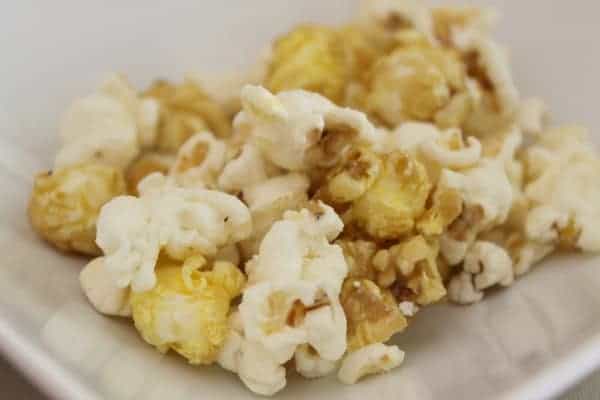 With flavors like Granny Smith Apples "An Apple a Day" and Deluxe Pizza "The Big Cheese" along with "In A Pickle" (a white cheddar cheese blended with dill pickle seasoning), Nom Nom Popcorn has something for every taste bud from tame to off the wall.
Nom Nom Popcorn flavors can be purchased in a variety of sizes from a snack sized 6 cup bag all the way to a 2 gallon tin as well as pre-filled Party Favor bags measuring 1 cup each.
This also means you can find a Nom Nom Popcorn flavor for anybody and a size for any budget.