It is starting to finally feel like Fall here on the Gulf Coast – I even had to turn the seat heaters on in the car this week! It is sometimes tough to get in the holiday spirit when you still break a sweat simply checking the mail, but thankfully I have had a few helpers to make me feel festive even with it being so hot outside.
One of these helpers has been my Spiced Pumpkin Signature PartyLite 3-Wick Candle that Independent PartyLite Consultant Marlo Reese sent in for this year's Diva Holiday Gift Guide.
PartyLite has been a leader in the direct sales industry for over 40 years. Their premium candles and accessories have been loved by millions and it is easy to see – and smell – why.

The Spiced Pumpkin Signature PartyLite 3-Wick Candle smelled amazing before I even got it out of its box! It is described as "decadent pumpkin spiced with ginger, cinnamon and nutmeg then wrapped in cream"… but I just call it delicious!
In fact, everyone who has walked into my office in the last 2 weeks has called it delicious!
The three wicks and glass jar design give it a nice deep melt pool which makes the fragrance last and last – even long after I have blown out the flames.
The embossed metal lid tops off the sophistication to make it the perfect gift for every candle lover on your list.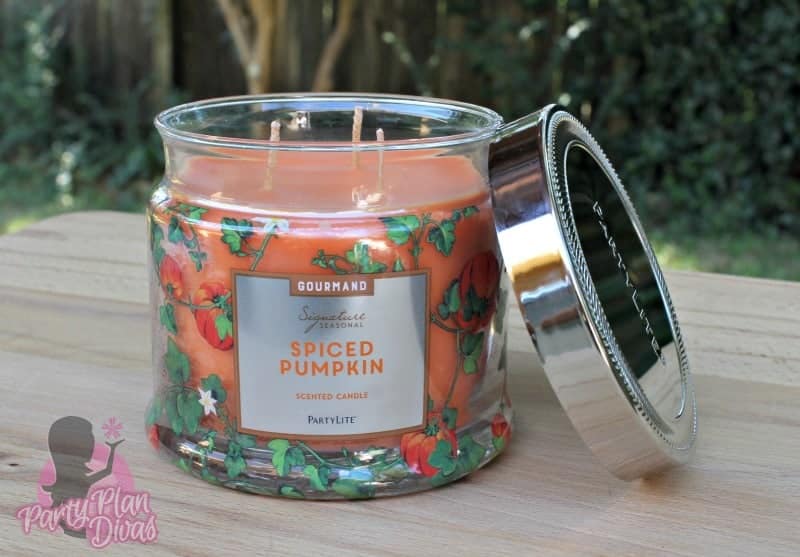 PartyLite offers a wide variety of amazing scented candles, gifts, and home decor. You can shop online or host a party to see and smell these gorgeous products first hand.
You can even join Marlo's team to build a business sharing these premium quality products and helping people design and scent their space.
You can check out Marlo's website to learn how you can get involved with PartyLite.