When I opened the package of the next item being featured in our Mother's Day Gift Guide – I was in love before I even got to the product! The amazingly wonderful scent came all the way through the package!
As I dug around in the box I was delighted to find two products that I will say I will order again and again. Between the scent and how soft and wonderful they make my skin, I can honestly say I am a Perfectly Posh customer for life!
Perfectly Posh is a fantastic direct sales company focused on making sure women pamper themselves daily! Their extensive line of bath and body products are made with simple, natural ingredients right here in the USA.
Their entire mission is simply around pampering – taking just a few moments to indulge your senses and relax and treat your body with the love and respect it deserves.
Too often we get caught up in the daily grind to really focus on making sure we are taking care of ourselves.
Perfectly Posh wants to remind you that you must take care of yourself before you can take care of anyone else, and their fun, snarky named products will help you to do just that.

Independent Posh Consultant Sonya Randolph sent me two amazing products for inclusion in this year's Mother's Day Gift Guide. I already told you how amazing they smelled – now let me tell you how amazing they feel!
The Lemonberry Coconut Oil is a super hydrating oil that you can use on your skin, hair, face – anywhere that needs a little pampering.
The Lemonberry Chunk Big Bath Bar has that same great scent and gently cleanses your skin while keeping you super hydrated and moisturized.
Used together your skin will feel soft and nourished and full of great scented moisture! You will feel "pampered" all day long.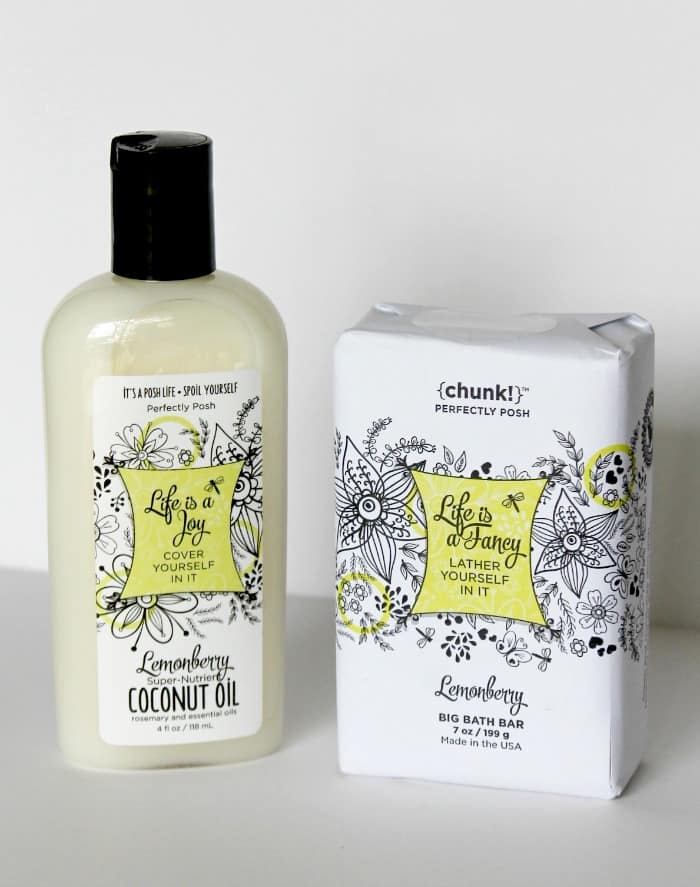 Perfectly Posh offers unique products, an excellent hostess program, and a generous compensation program for their consultants.
Whether you are looking to pamper yourself or someone you love, or looking to own your own business helping women to slow down and nurture themselves, Perfectly Posh has something for you!
You can check out everything Perfectly Posh has to offer on Sonya's website.