At Perfectly Posh, it's all about the pampering! With the best ingredients and creative products, Perfectly Posh's goal is to give you even just a few moments of escape from everyday life. Perfectly Posh's product line is made with essential oils, sustainable products and sensible animal by-products such as milk, honey and beeswax and is all Sulfate, Paraben, Lanolin and Phthalate and cruelty-free and made in the USA!
Perfectly Posh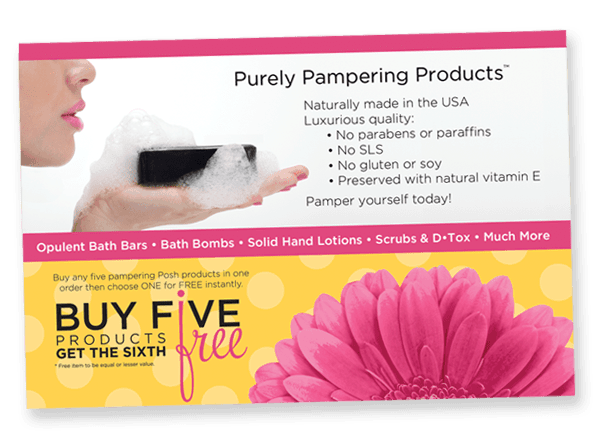 If thats not enough to love about Perfectly Posh you will love their catchy product names and the way the products bring a smile to your face. I LOVED opening the package from Independent Perfectly Posh Consultant Bethella Phillips for the 2014 Party Plan Divas Holiday Gift Guide.  I have to hide my Perfectly Posh products from my teen diva because she loves them as much as I do!  I received a wonderful package that included the Mental Petal Bombinator, a Posh To Meet you pampering products pack and Mint for Each Other body scrub. The package smelled fantastic as soon as I broke the seal of the tape and I knew we were in for a treat here! The Mental Petal Bombinator is made with real rose petals and has a fabulous floral fragrance. When tossed into a bath (either whole for a full experience or broken up into several uses) it loads your bath water with a relaxing fragrant scent that combines Orchid, Rose and Freesia together.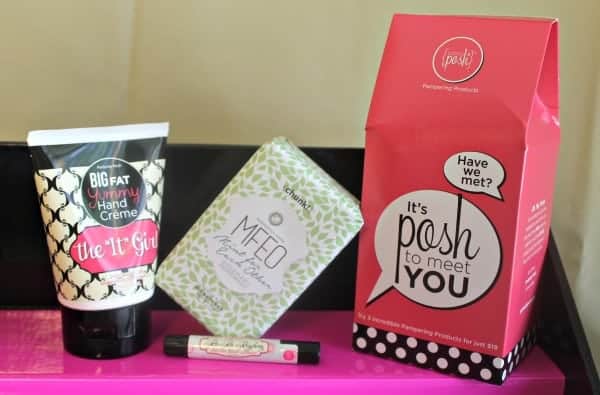 The Mint for Each Other Body scrub is a superb way to get clean soft skin that smells great. Mint for Each Other Body scrub when applied to skin in the bath or shower is used as an exfoliator to remove your dead dry skin leaving behind nourished healthy skin. Made of chunky sea salt, peppermint and Monterey rosemary, the Mint for Each Other Body scrub is the perfect pick me up!  The It's Posh To Meet You set is a great gift idea for new moms, best friends, aunts, cousins, sisters, or any woman you know.  It includes these great natural based products, Ra-Ra Raspberry Lipbalm, Mint for Each Other Soap Chunk and "It" Girl Big Fat Yummy Hand Creme.  This product package has three of the best selling products that Perfectly Posh has to offer, but my favorite is the Big Fat Yummy Hand Creme.  This cream is loaded with vitamins and apricot kernel oil that penetrates skin and doesn't leave a greasy feeling behind.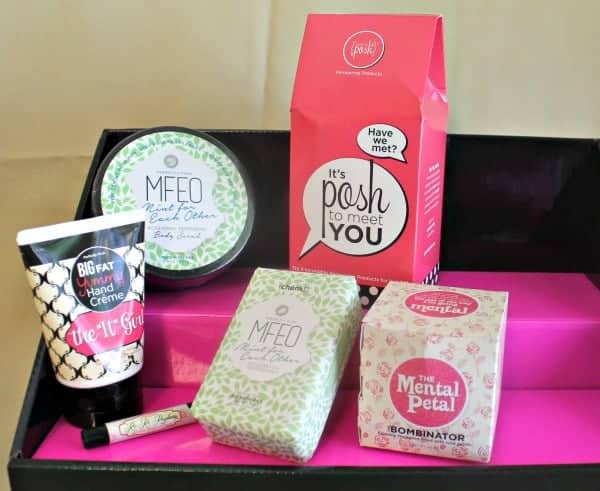 When you Party with Posh you get pampered with amazing Party Perks like free products and half priced items not to mention having a great time with girls laughing and enjoying product sampling and pampering. As a Perfectly Posh Consultant with a small investment you will receive a Posh Starter kit with Best Selling products, times TWO!  One for you and one for your business! This gives you the opportunity to use the products you will be showcasing at your parties and earn a competitive commission.