Have you ever noticed that a certain scent can trigger a memory from your childhood or perhaps the memory of a loved one or specific event? There have been many research projects based on the sense of smell. Studies have found that there are various characteristics of memories linked to an individuals sense of smell and the way it's stored in the brain.
It was found that the olfactory nerve is located close to the amygdala which is the area of your brain that is connected to the experience of emotions.
With Pink Zebra you can bring those memories into your life as often as you desire. By simply using their unique scented sprinkles and warming options (from electric bulb warmers to electric simmering pots and wicked flame pieces), you can trigger the comfort of scent over and over again.
The soft soy wax (produced from US grown soybeans) allows for maximum fragrance release (vs traditional wax candles) and is cleaner and longer burning.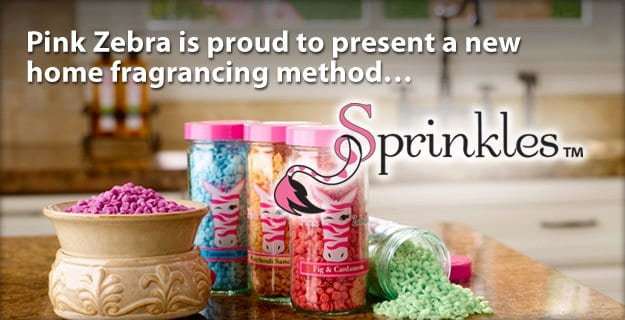 Independent Pink Zebra Consultant Shaya Sorenson sent me some wonderful product pieces from the Pink Zebra product line including a simmering base with pink frosted glass liner and the Black Zebra cut out Shade as well as the delicious smelling Grape Popsicle sprinkles jar.
The Grape Popsicle sprinkles melt and bring me to my childhood of popsicles by the pool with my grade school friends all the way into the years of my own childrens early years and spending hot summer days outside getting cooled off and sticky with fruit flavored popsicle treats.
By choosing the quantity of sprinkles I place into my warming unit I can easily control the intensity of the scent throughout my room or home.
And because there is no flame I don't have to worry if I leave home and forget to turn it off or if one of the furry friends in our home gets too close.
Pink Zebra Sprinkles warm only enough to release their scent and are safe to touch as they do not heat to an unpleasant temperature like traditional flame lit candles do.
With approximately a 30% longer burning time than traditional scent options for your home, Pink Zebra sprinkles are an economical option for any budget.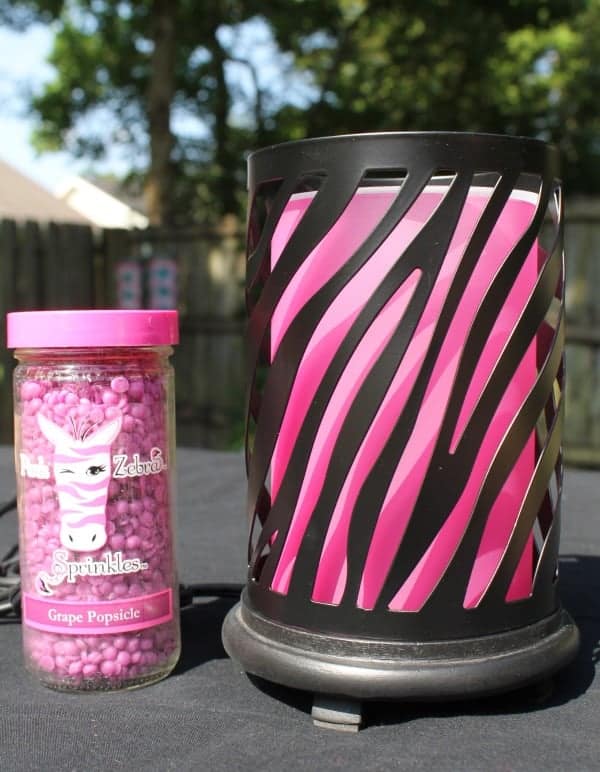 The Simmering Lights base uses a small 25 watt bulb and features a more than 7' long cord with an inline on and off switch as well as a frosted glass liner shade and a glass dish.
With just a few moments of assembly you are on your way to bringing the comfortable memories triggered by your favorite scents into your home.
Pink Zebra also offers a line of resealable Reed Diffusers, soaps and lotions so you can have the comfort of scent nearly anywhere.
Pink Zebra is sold exclusively by Independent Consultants through Home Parties and personal shopping experiences where guests/customers can sniff test the broad variety of scents offered as well as allowing Hosts to earn free and reduced priced products for sharing the Pink Zebra experience with their friends.
Pink Zebra is backed by a 100% quality guarantee.  If you are not pleased with your purchase Pink Zebra will gladly replace it with another item with no questions asked.
Independent Pink Zebra Consultants enjoy the ability to operate their business on their terms and find the comfort of financial freedom without the need to be stressed in a traditional corporate working environment.
 In 2013 Pink Zebra was named in the Top 10 Performing Home Party Companies list and provides a unique and fun work opportunity with a rewarding compensation plan and small initial investment.