For this years Party Plan Divas Mother's Day Gift Guide, Independent Premier Designs Consultant Christina Lankford sent me a beautiful piece from the Premier Designs Jewelry line called Layered On. With more than 20 ways to wear this piece, it is probably the absolutely the most versatile piece I've ever seen.
You can wear it as in, or with minor changes turn this into a multi length piece, a short style, take pieces off to create different looks and I'm not even sure that I've discovered all the great ways this can be worn yet!
The Layered On piece features 4 different strands (two are removeable) and one removeable enhancer.
The removeable enhancer is a large clear tear drop shaped crystal with a rhinestone cap which also looks great when removed and placed on other pieces.
The piece as is measures approximately 36" with no altering of the piece.
Because you can remove the enhancer you can leave it long or shorten some of the strands and then placing the enhancer on one of the shorter strands.
And if that's not enough for you, you can also pair the Layered On crystal necklace with other pieces from the Premier Designs Jewelry Product line for even MORE ways to wear.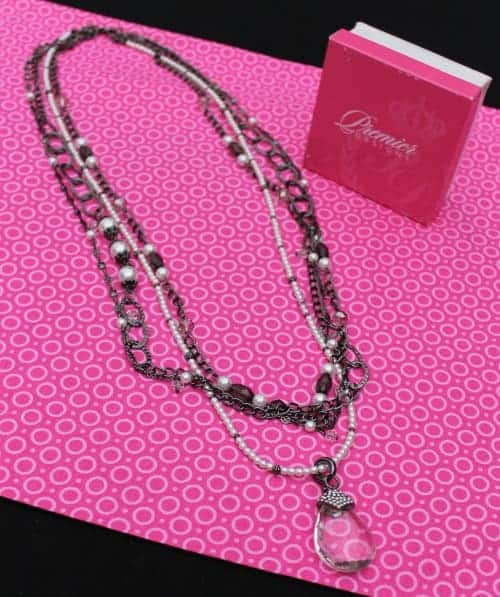 I love the Layered On necklace because it can be easily dressed up with your favorite Little Black Dress, or dressed down to go with your favorite pair of blue jeans.
And with so many different looks, you can wear it again and again without feeling like you are wearing the "same ole thing" all the time.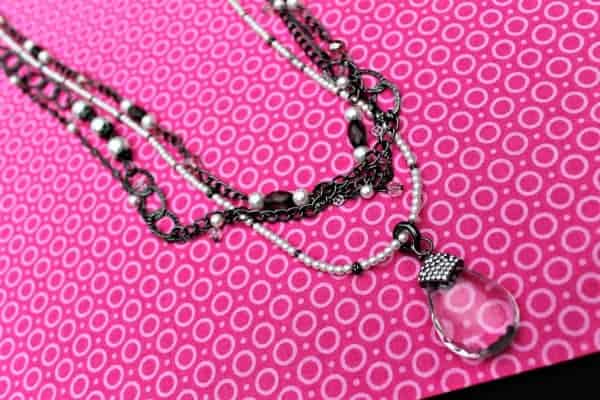 Premier Designs stands behind every piece they sell with their Golden Guarantee. This guarantee states that if there is a manufacturing defect they will replace your piece.
Founded in 1985 in Texas, Premier Designs has independent distributors (known as Jewelers) all across the United States and in Puerto Rico.
With more than 500 affordable fashion jewelry pieces in their collection Premier Designs Jewelry there is definitely something to appeal to every sense of style and budget, or earn your favorite products FREE by being a Premier Design Jewelry Hostess.