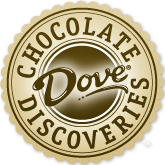 When I was growing up my Grandmother always talked about needing "just a bite of something sweet."  After meals – she needed a bite.  After coffee – she needed a bite.  And before bedtime… "just a bite" of something sweet.
When I found Dove Chocolate Discoveries last year I immediately thought of my grandmother.  I fell in love with the chocolate covered cashews and they were always the perfect "something sweet" that I needed.   When Maria Shaw, Independent Chocolatier for Dove Chocolate Discoveries emailed to participate in Christmas in July, I was stoked to find another "something sweet" from the DCD line.
At DOVE CHOCOLATE DISCOVERIES™ we believe in the power of chocolate to transform a mood, a party, a gift, even a life. We offer a unique opportunity to turn the world's passion for premium chocolate into an independent business and a fun, social experience. We know a career in making people happy can lead to great personal growth and unlimited financial rewards.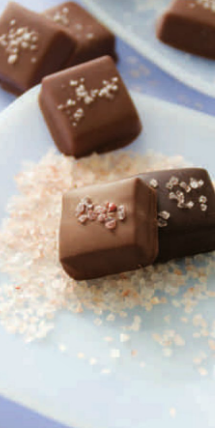 Maria sent me the Sea Salted Caramel Collection – a box of 24 milk and dark chocolate covered caramels with a selection of sea salts from around the World.  I absolutely love the whole salty/sweet combination so these were perfect for my "just a bite" snack.
My girls loved them too – Sami liked the Dark Chocolate with Bolivian Rose Salt from Bolivia and Taylor liked the Milk Chocolate with Murray River Pink Salt from Australia.  (It being "pink" may also have something to do with that 🙂 )
You can check out everything Maria has to offer through her Diva Chocolate Discoveries Independent Chocolatier website, and on her Facebook Page.