The only thing I love more than receiving a card in the mail – is sending a card in the mail.
In 2015 it seems everything has gone electronic – texting has replaced phone calls, skype has replaced face-to-face meetings, entire relationships are formed on social media… but one thing remains – there is just something about a sweet sentiment landing in your mailbox.
That is why one of my all time favorite companies is still Send Out Cards – a company who understand that even in 2015, a card in the mail is almost magical.

Send Out Cards makes sending cards quick and easy. With just a few clicks, you can choose and personalize a real, high-quality paper card and have it sent off to anyone – anywhere.
You can even send "campaigns" where you send the same card to as many recipients as you want!
With Send Out Cards convenient system you can send birthday, anniversary or thank you cards without the hassle of pen, paper, stamps, envelopes or mailboxes.
Sending a card has never been so easy. And cards isn't the only thing you can send! Independent Send Out Cards Representative Pamela Liberto sent me this delicious package for inclusion in the 2015 Diva Holiday Gift Guide!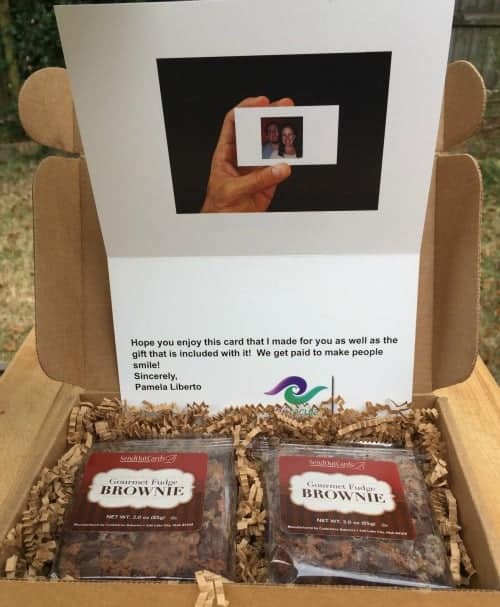 Send Out Cards has a complete "gift shop" where you can send gourmet foods, flowers, books, and more!
Just as easily as you can send a card you can send a complete gift without ever having to leave home!
Just a few clicks and your gift is printed, packed and shipped to your loved one's door! How cool is that!?
Send Out Cards is a great tool for absolutely anyone – especially home-based business owners.
With one of the number one ways to build your business being customer service and staying in front of your customers in a caring way, SOC lets you schedule mailings in advance – so you can schedule out birthday cards, random "hello" cards, or even set up a mailing schedule for re-orders every couple of months!
You can also set up mailings to your team with encouragement, inspiration, and need-to-know information, like when their renewal is approaching!
The sky is the limit with Send Out Cards – and because it is so easy to use – you can do it all!