I am so happy that Independent Tastefully Simple Consultant Carrie Hurley contacted me to participate in the 2014 Mothers Day Gift Guide.   Why?  Because I love trying new recipes and foods but I'm TERRIBLE in the kitchen and have been learning for years how to cook, but at least I'm learning right?  However, with Tastefully Simple it's so easy to create delicious gourmet like treats from desserts to main dishes and appetizers such as dips and snacks, even for the kitchen challenged like myself.  I love that most of their products only take 1-3 ingredients to make and are usually things I have on hand in my kitchen anyway so I can quickly prepare something for a last minute best friend gab session while the husband is out or when I need a to bring a side dish to an event but I'm short on time.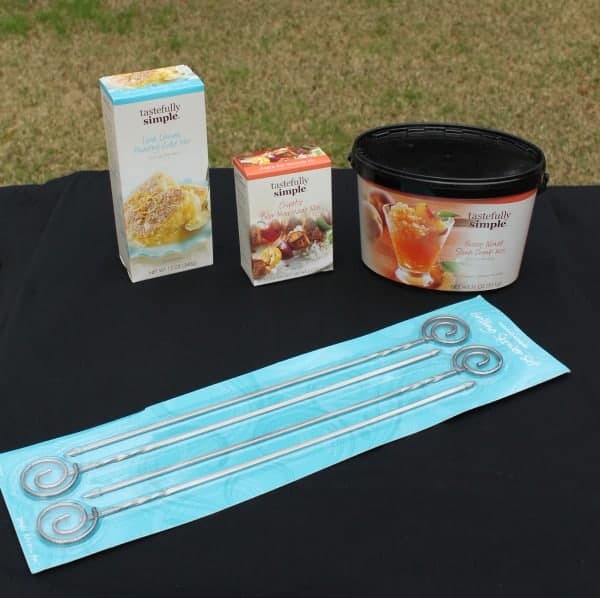 Independent Tastefully Simple Consultant Carrie Hurley didn't fail to deliver with this great Summer Fun package she sent for inclusion in the Mothers Day Gift Guide.   I received the Lush Lemon Pudding Cake Mix, Chipotle Beer marinade mix, Grilling Skewers and possibly my favorite, the Fuzzy Navel Slush Drink mix.
Lets start with the Lush Lemon Pudding Cake mix,  this wonderful cake is made with just 2 ingredients, the contents of the box and water.  Yes WATER!  That's it, dump these two things in a bowl, mix, pour into a baking pan and bake and voila – DONE!   Now there are some great variations you can do by adding various toppings like berries and whipped cream once it's baked and being served or you can even add in chopped berries or nuts into the batter before baking.  I understand that you can even alter this to make it into a cheesecake version though I didn't try that.  What I really loved is that the box even had directions on how to make individual servings of this cake using pineapple tidbits and the mix.  How awesome is that?   Now for the taste, it was delicious, with the light and airy texture and perfect lemon flavor it was perfect with cut up strawberries and a splash of whipped topping on it slightly warm out of the oven.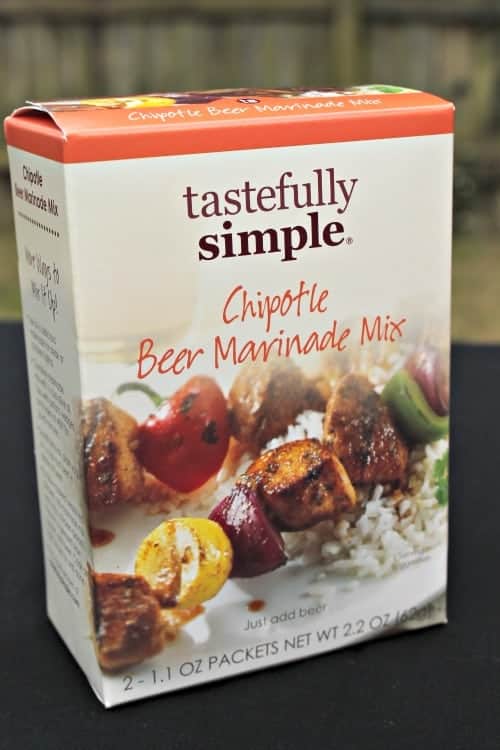 The Chipotle Beer Marinade mix has a bit of an extra spicy zing from the jalapeno in its seasoning ingredients.  You add one beer (that's all) to make a marinade that is great on chicken, shrimp and veggies.   Of course this works well with the awesome Grilling Skewers to create the perfect backyard spring or summer lunch.
But I've saved the best for last …. the Fuzzy Navel Slush Drink mix is, well it's like happiness in a tub.  First off let me just say that I'm not a big mixed drink fan really, but I do love a cool beverage when I'm sitting around the pool enjoying the Florida sun.  With the Fuzzy Navel drink mix it's as easy as ringing the tub the mix comes in (don't worry it's in a sealed pouch inside you remove that and then wash the tub), empty the packet contents, add water and some peach shnapps and then freeze for about 12 hours.  You freeze it right in the bucket.  So when you are ready and it's nice and slushy you just remove the lid and scoop out a serving.  With the perfect flavor for any summer day outdoors mom would love some quite time on the deck with a good book and this wonderful treat for Mothers Day, I know I enjoyed my afternoon with my best friend and some great conversation and the bucket of Fuzzy Navel Slush.    There is an alternate recipe to make this into a non alcoholic beverage as well.
Since 1995, Tastefully Simple has been providing their wonderfully simple edible mixes and treats exclusively through their network of Independent Consultants with a vision to make life more simple, and delicious at the same time.  By providing their wonderful tasting experiences through parties and other events, Independent Consultants like Carrie Hurley can turn anyone into a gourmet chef.