Established in 1989 in Philadelphia by it's namesake, Traci Lynn Fashion Jewelry has sold high-quality jewelry at affordable prices for 25 years.  Traci Lynn jewelry pieces are sold and delivered through independent consultants through home parties, personal shopping events and catalog orders.
Traci Lynn Fashion Jewelry is created using high quality materials including Austrian crystal, sterling silver, rhodium plating and cubic zirconia.  When you host your own Traci Lynn home party you have the opportunity to receive these quality pieces at deep discounts and even free pieces!  By becoming an Independent Consultant you can take control of your success by growing your business on your terms and holding the power to your earning potential.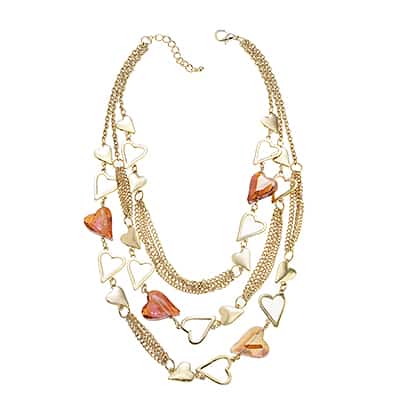 Independent Traci Lynn Stylist Bobbette Owens sent me a wonderful piece called, Hearts of Fire, from the Traci Lynn Jewelry Collection.  This triple row chain piece features a mixture of the chain, stones and heart shaped links to create a unique and wonderful statement piece for accessorizing your life.  The adjustable chain allows you to wear this necklace at a variety of lengths that feel and look the best for your comfort.  The chain overall measures 18"-20" in length depending on where you place the clasp on the extender chain.  The multi faceted heart stones that are placed on the strands in varying intervals appear to be ablaze when light catches them at different angles.  The wonderful mix of the solid and cut out hearts along with the fire colored crystals really brings out the personality of this piece. Traci Lynn Fashion Jewelry has also made it simple to coordinate your look by offering matching pieces in the Hearts of Fire bracelet and the Hearts of Fire drop earrings.
Traci Lynn Fashion Jewelry also offers a variety of pieces including bracelets, charms, Breast Cancer Jewelry as well as beautiful watches.  Most items fall within a $30-50 price point making Traci Lynn Fashion Jewelry an affordable option for accessorizing your life. Check out everything Traci Lynn Fashion Jewelry has to offer by visiting Bobbette's website.